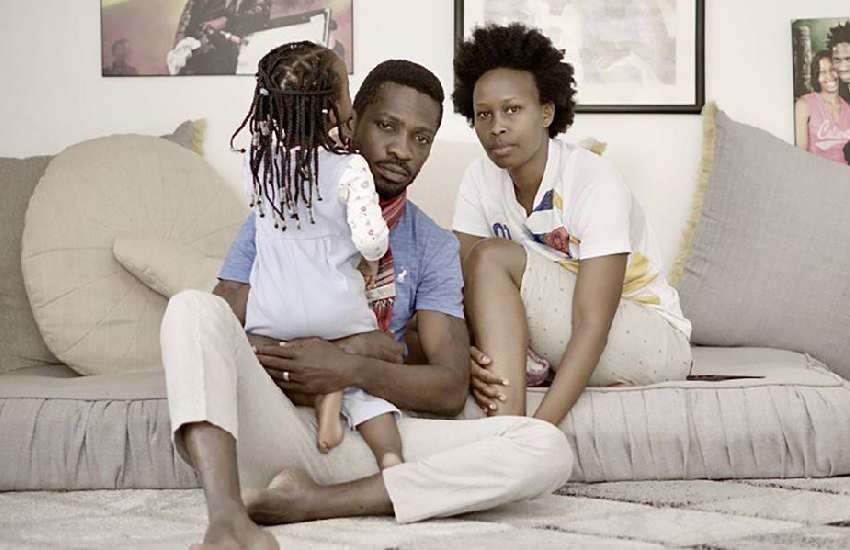 A niece to Ugandan opposition leader Robert 'Bobi Wine' Kyagulanyi has been 'safely evacuated' from the popstar turned politician's Kampala residence.
The 18-month-old unnamed girl had been holed up with the National Unity Platform (NUP) leader and his wife Barbara 'Barbie' Kyagulanyi since January 15 when the military barricaded the home after he decried January 14's presidential poll which gave President Yoweri Museveni a record sixth term as a "sham."
Read Also: Bobi Wine speaks out on why he evacuated family to US ahead of election
Speaking to CNN, Bobi Wine said the niece, stuck at the house with no food and access to her father because nobody was allowed to leave or come into the compound, was 'evacuated' Friday. "I'm glad to inform the world that the baby was evacuated yesterday when my lawyers were very briefly allowed to come in," he told Becky Anderson.
"Day six under house arrest and we're still stuck with an 18 months old baby who had paid a visit to her auntie (my wife) before we were raided and besieged. The dad has been denied access to her. We have run out of food and milk. No one is allowed to leave or come into our compound," he tweeted earlier.
On January 16, U.S. ambassador to Uganda, Natalie Brown, was blocked after she attempted to meet the NUP leader to check on his welfare. According to government spokesman Ofwono Opondo the US was 'meddling in its internal affairs' in a bid to 'cause regime change.'
"Obviously we all know that Ambassador Natalie [Brown] and the American system here, USAID and so on has been funding Bobi Wine and other outfits in clear disregard of diplomatic norms, with the main objective to destabilize the government of Uganda and cause regime change outside the constitutional framework. We are watching her back, you can tell her that," said Opondo.
Read Also: Uganda accuses U.S. envoy of subversion for trying to visit Bobi Wine
All eyes now turn to the high court which will Monday, January 25 pronounce itself on a case in which Wine is suing the Attorney General (AG), Chief of Defense Forces (CDF) and the Inspector-General of Police (IGP), challenging his week-long de facto house arrest by the military.
"The High Court of Uganda say that they are going to be coming to our place on Monday… but in the meantime, our house is surrounded by hundreds of soldiers, and they even jumped over the fence and have taken control of our compound. This detention in my house is illegal, and my lawyers are … saying if there is a case for me and my wife to answer then we should be presented before a competent court. But because Gen. Museveni is aware that he lost this election, flat - that's why I am being kept under illegal detention, and I am not allowed to meet with my family, I'm not allowed to meet my doctor, and all my lawyers have been [stopped] from meeting me," Wine told CNN.
Related Topics