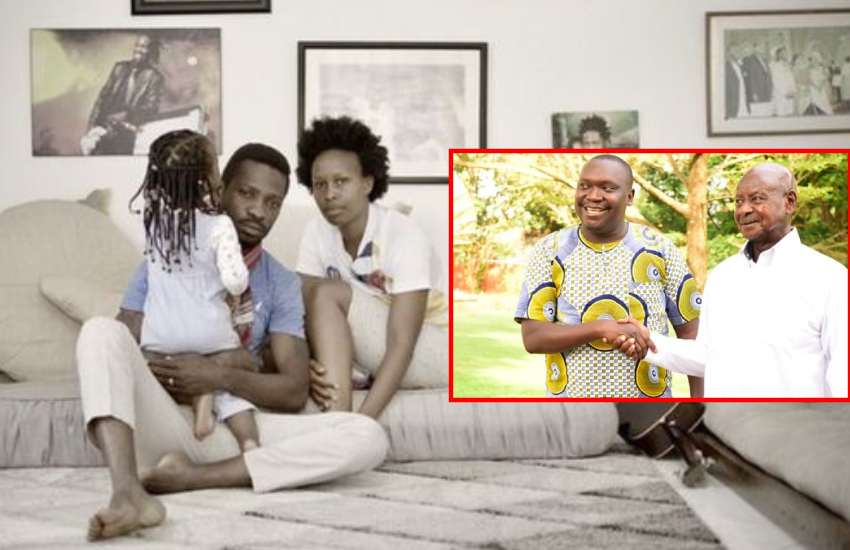 Comedian Patrick Salvador Idringi, on Friday, weighed in on the 'arbitrary detention' of Ugandan opposition leader Bobi Wine, who is under house arrest by the military on the outskirts of the capital, Kampala, since losing January 14's presidential election to long-serving incumbent, Yoweri Kaguta Museveni, in a disputed poll.
In a post seen by Standard Entertainment & Lifestyle, Salvador, a staunch National Resistance Movement (NRM) supporter, said the post-election blockade of the pop star turned politician and treatment of his colleagues in the lead-up to the 2021 presidential elections is appalling. Setting the record straight, the comedian added that though he supports Museveni, he is not blind to the shrinking democratic space, and is disturbed by growing obstructions of civic freedoms.
Read Also: Uganda accuses U.S. envoy of subversion for trying to visit Bobi Wine
"Supporting Kaguta Museveni doesn't necessarily mean I agree with everything his government does, the general treatment of opposition during the whole election period has been appalling, especially the treatment of Bobi Wine. There hasn't been any sensible reason why Bobi Wine or his colleagues are still under detention. It's a very sad and disturbing thing when injustice is caused by those you have faith in. As 4 #FreeNFair elections. I'm sorry if we still think this can be achieved anywhere in Africa. It's taken me time to share my feelings because well whatever I tried to communicate was watered down by insults but at the end of the day I'm human and I know injustice #FreeDomIs4All," he wrote.
A post that echoed a petition by Nigerian Human rights lawyer, Femi Falana, who January 19 submitted a complaint to the United Nations Working Group on Arbitrary Detention (UN-WGAD) to investigate Wine's arrest. "We are challenging my continued illegal confinement by the Ugandan police and the military," Wine posted on Wednesday
In a statement January 15, Wine disputed results declared by Uganda's Electoral Commission (EC) and accused Museveni of committing "election fraud." Wine claimed that the exercise was tainted by violence, voter suppression, and rigging. He alleged that he can prove that the military harassed voters, stuffed ballot boxes, and cast ballots for people. "We reject these results because we have seen the rigging pattern even from the time we were campaigning. Many of my agents in most districts in the west and north, especially West Nile, were arrested… whatever is being declared is a total sham… "We secured a comfortable victory. I am very confident that we defeated the dictator by far."
Read Also: Why State House deleted post congratulating Museveni for election win
Claims denied by EC chairman Simon Byabakama. "In law, we say the burden is on he who asserts to establish the facts, so the onus is on the Honorable Kyagulanyi to prove (the allegations)."