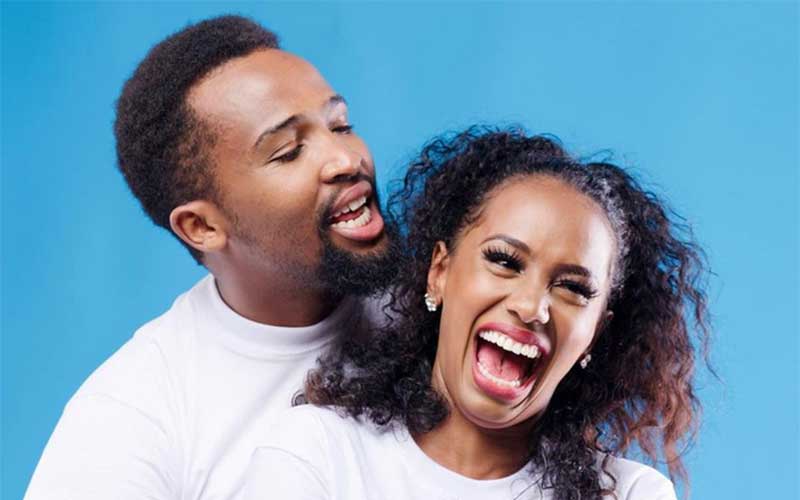 Media personality Grace Ekirapa and her actor hubby Pascal Tokodi have been giving netizens sleepless nights with their undeniable chemistry online. Since they admitted to tying the knot, the adorable couple has not once shied away from publicly expressing their love for one other.  The Cross over 101 show host recently wrote a touching Instagram post assuring Pascal of her undying love.  
"It's in the Joy that you bring to my life @pascaltokodi Forever is not enough to show you how much I Love You," she wrote.
Speak of undeniable chemistry, Grace and Pascal sent social media into a frenzy not too long ago with their adorable cuddly video.  
READ ALSO: You make a great couple, social media 'in-laws' to Dj Mo and Grace Ekirapa
"You're the best part of my 2020. Exactly what I needed.... Happy new year babie," wrote Pascal.
Secret Wedding
A number of online users secretly crushing on Pascal and Grace were somewhat disappointed by the news of their marriage, realizing they no longer had the chance to shoot their shot.  The couple's union came as a surprise to many as the two kept it out of the prying eyes of social media. Grace and Pascal even went ahead and shared a video of their wedding, giving fans the impression that they were just shooting a music video.
Curious netizens were however quick to put one and one together and realized that the two were indeed a couple and were living together. Here are some of the reactiosn to their wedding:
Kipzryan Ladies Pascal is gone, ni sisi tuko sasa.
Shaxie.rela I promise, I'm not crying.
Gildahmarekia You look good together.
READ ALSO: When I was in class eight, I attempted suicide - Grace Ekirapa
Davies_juma Bro you make me to start believing in love again! God be with you.
Ernest_diha Ladies, he is gone please.
Angie_belle_ Kwani nyinyi wote mlitaka kuolewa na Tokodi? si poleni.
Misslemiso Finally you came out clear.
Almost got married
Previously opening up on a past relationship, Grace admitted that she almost got married to another man but called it off.
"In 2018, I was to get married on my birthday, which was April 27. I got engaged in February that year, and in March, I had my traditional wedding. I realised I was going to make a big mistake; I was going to get into something I hadn't thought through. The guy was in love. He was my very good friend, but (I felt) we were not going to be okay as a married couple. Because I had been hurt in my immediate former relationship, I jumped into something… a new relationship, which was a rebound born out of pain. I was like rebelling against being hurt," she said.