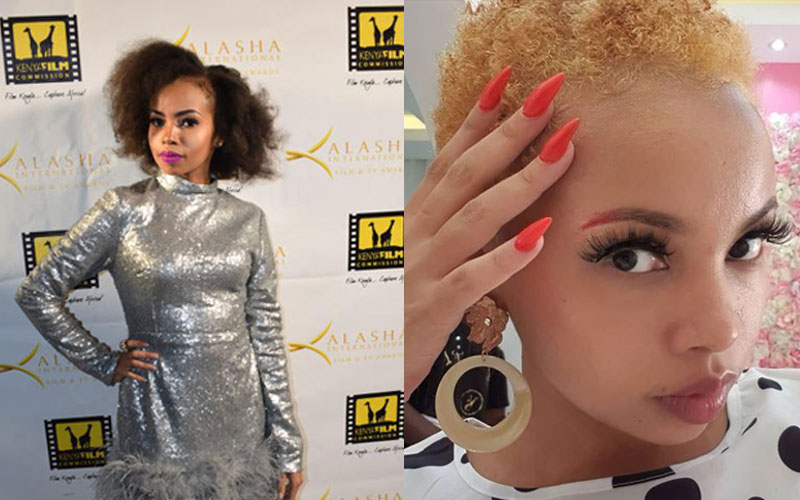 Award-winning actress Brenda Wairimu has taken social media by storm with her makeover. Documenting her daring transformational journey on her social media, the mother of one began by shaving off her long natural hair and rocking a dyed, faded cut. Brenda's decision to swap her long hair for a short blonde look divided a section of her fans, with a good number expressing their disappointment at her willingness to get rid of her beautiful hair. It seems the criticism did not stop at the comment section as the actress revealed that individuals were still camping in her DM lecturing her over her decision to cut her hair.
"The way people are very mad at me for cutting the hair, but congratulating me at the same time on the new do. My DMs are currently a war zone," she said.
READ ALSO: Has Ephy Saint moved on with Brenda Wairimu?
She, however, appreciated the few ladies that respected her decision, inspiring her to rock the new look with confidence after years of shying away from the idea of having short hair.
"Thank you to all the ladies who inspired and rock short hair, and are being so nice with the complements and advice. I'd wanted this for so long, finally I got 'brave' yesterday!" she added.
New tattoos
Not long after causing a stir on social media with her new hair, Brenda posted a picture of herself getting tattoos on both her legs and netizens could not stay calm. According to the Selina actress, 2021 is her year and she will therefore do everything she has ever wanted to do without holding back or feeling guilty.
"You think you can hurt me? I nap while getting tattoo? Remember...this is the year of YES and guilt free NO's. Should I shave my hair? YES. Should I get those tattoos I've been wanting? YES. Should you get pregnant by this man? If you have to ask, it's probably NO ladies. "
Here are some of the responses from her post:
Theemwalimurachel Good girl gone rogue! Do you mama.
Emmydrita Good girl gone bad. Get another one kwani iko nini we shall keep asking by the way.
Mamarocksgbk You look so pretty with the cut.
READ ALSO: I owe my acting success to tragedy, Brenda Wairimu explains
Its.just_melody It looks good. A 2021 of completing your bucket list.
Ben_tha_don Good gal gone baaadest.
Lilylisa577 Eeeeeiish even me I think I want a tattoo. It seems 2021 you won't let us breathe.
Vene.ssa1182 My dear go ahead get pregnant again.
Sandra__kesh It's your world run it how you want.
Ghostie_khaleesi Until I read the caption I was getting worried. I was going to ask if this is you were getting over someone… But I'm here for glow up season.
Tassy_sly From cutting your hair to getting tattooed. Continue shocking us like Corona did.
Related Topics