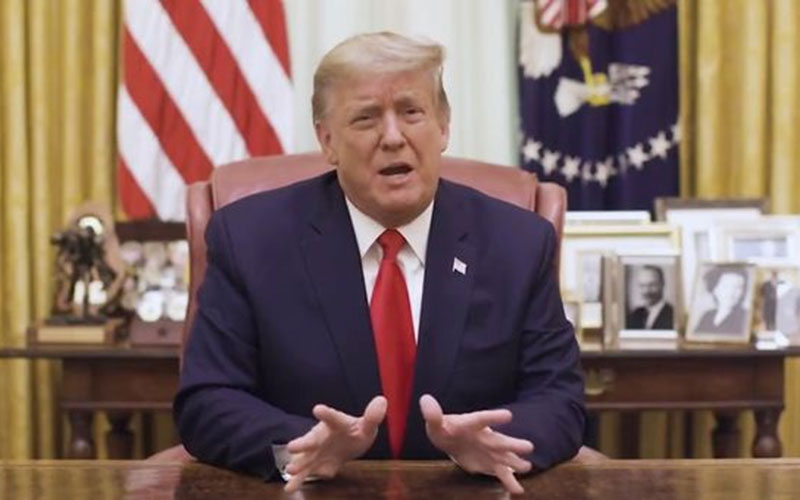 Donald Trump has been impeached for a second time, for inciting insurrection. The House of Representatives voted to impeach Trump by 232 to 197. The vote went largely along party lines - but ten Republican Congressmen broke ranks, voting to condemn the leader of their own party. It makes Trump the first President ever to be impeached twice. The articles of impeachment presented to the House today included just one charge: "incitement of insurrection."
"The president of the United States incited this insurrection, this armed rebellion against our common country," House Speaker Nancy Pelosi, a Democrat, said on the House floor.
READ ALSO: Apprentice star claims Trump twice tried to kiss her while married to Melania
"He must go. He is a clear and present danger to the nation that we all love."
Democratic congressman Julian Castro, a former presidential candidate, called Trump "the most dangerous man to ever occupy the Oval Office." Congresswoman Maxine Waters accused Trump of wanting civil war and fellow Democrat Jim McGovern said the president "instigated an attempted coup." Republicans argued the push for impeachment was a rush to judgement, and complained it had bypassed the usual process of hearings. They also called for Democrats to abandon the push for the sake of "national unity" and "healing".
With just seven days of his presidency remaining - and with Congress debating his impeachment for inciting insurrection - the President told his supporters there should be "NO violence, NO lawbreaking and NO violence of any kind."
In a video released on Wednesday evening, on the White House Twitter page which lasts just over five minutes, the US President then promised those who engaged in last week's attack will be "brought to justice". He added that everyone who has supported his agenda should look for ways to ease tensions.
READ ALSO: Melania Trump backs NBA star LeBron James after Trump insults
"I want to be very clear, I unequivocally condemn the violence that we saw last week," he said in the video, filmed at his desk in the Oval Office.
"Violence and vandalism have absolutely no place in our country and no place in our movement."
But it came just a day after he warned any bid to remove him from office would be "dangerous".
Related Topics