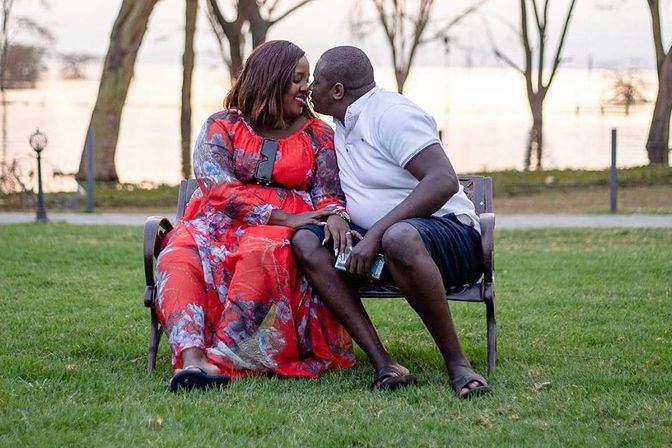 Comedian Lawrence Macharia, alias Terence Creative and his wife, popular YouTuber Milly Chebby have left a section of netizens confused on whether they are expecting their second child or if getting pregnant again is among their new year resolutions. This is after Terence posted a picture of his wife heavily pregnant holding a pregnancy test with the caption, "the year of results @millychebby."
Terence's Instagram page quick run-through shows that the picture used is from their previous maternity shoot. At the same time, they were pregnant with their daughter Milla Netai, popularly known as Millanetai.
Best father
On several occasions, Terence's wife Milly commended the comedian for his dedication in raising their daughter Milla and being the best father to his two other children.
"To my partner, father of my kids @terencecreative men you've been there for me and our baby @millanetai, today I wanna focus on the good man you have been, I wouldn't have done it alone.
ALSO READ: Terence Creative sheds light on 2019 affair, how it rocked his marriage
"You've been a present father despite the fact that you grew up in a children home as in you didn't have a father hence didn't really have script on fatherhood. You change diaper, bath her, feed her in the wee hours of the night without questioning, thank you being a present dad to Mwihaki, I celebrate you as #Millaturns1it would be selfish if I said I did it alone," she wrote in a previous post.
The father of three recently surprised his fans by revealing he has an all grown teenage daughter. The Churchill show comedian shared an adorable picture of Mwihaki alongside a heartfelt birthday message wishing her all the best life could offer.
"To my dear beautiful, genius, blessed daughter, as you turn another year old, may God continue blessing you and covering you under His shadow, I wish you nothing but more grace, wisdom, health and wealth.
"May you grow to lead and have a Midas touch, may everything you touch blossom and prosper. May you grow to be a role model to your sisters, I miss you and love you so so much than you can ever imagine, God bless you Mwihaki, si nakupenda aki," he said.
ALSO READ: Marriage is not about perfection, Terence and Milly Chebby open up on struggles
Asked whether he was co-parenting with the mother of his two first-born children, Terence responded by revealing they are on good terms with his baby mama but refrained from commenting on their parental agreement.
"I am in good terms with my other baby mama, and that is why I decided to post them on social media. I believe there is nothing like co-parenting. They are okay and I love them but for now, I don't want to talk more about them," he said.
Addressing the matter of co-parenting in a previous Q and A, Milly disclosed the Terence had was denied access to his children.
"@terencecreative still can never get access to his kids, ile siku tutaanza co-parenting we will talk about it for now we pray he gets access," she said.