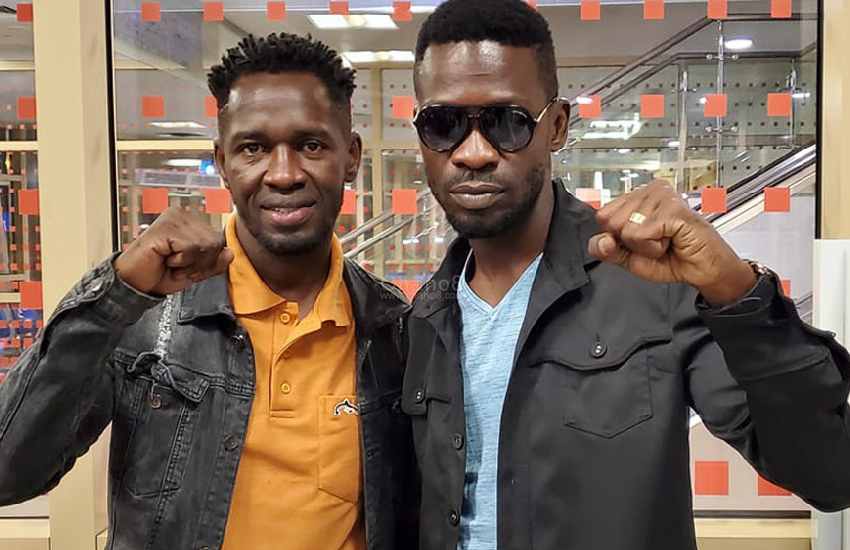 Bobi Wine's protégé and long-time collaborator Ali Bukeni, popularly known as Nubian Li, Friday appeared before a court-martial in Kampala for illegal possession of ammunition.
According to the Daily Monitor, Nubian Li was among 49 National Unity Platform (NUP) supporters, who included Bobi Wine's chief security officer Eddy Ssebufu, arraigned before Lt Gen Andrew Gutti for possessing four rounds of ammunition of an AK-47 rifle, a firearm which is the monopoly of Uganda's defence forces.
Read Also: Bobi Wine speaks out on why he evacuated family to US ahead of election
The news outlet reports that the 49 were arrested on January 3 at Kawempe, one of the five administrative divisions of Kampala, and were initially among a group of 106 detainees rounded up during Bobi Wine's campaign trail on December 30, 2020, in Kalangala district, Central Uganda. They denied the charges and were remanded at Kigo and Kitalya government prisons until January 19, 2021, when the case will be up for mention.
Speaking to the Daily Monitor, NUP secretary-general David Lewis Rubongoya said the singer, who recently featured in Bobi Wine's Corona Virus Alert banger, was, initially set to appear before Masaka Chief Magistrate Charles Yeteise. 
Rubongoya claimed that a bus transporting Nubian Li and over 40 NUP supporters from Masaka Ssaza Prison was Thursday intercepted and diverted to Makindye Military Barracks in Kampala. "On the way to court, the bus in which they were travelling in was diverted to Kampala and now we're told they are being detained at Makindye Military Barracks." 
With the suspects a no show, the Chief Magistrate reportedly issued criminal summons against the prison's officer in charge, Henry Kidega, to 'explain why the suspects were not produced in court.'
"Majority of the accused persons were supposed to be presented to court today [Thursday] for official release, but they have not been produced even after fulfilling the bail conditions," Lule Alexander, one of the lawyers for the accused persons, was quoted as saying in a plea to the magistrate.
"Your Worship! I ask this honourable court to issue criminal summons to the officer in charge of Ssaza prison to appear before this court and explain the whereabouts of the people who were intercepted while on their way to this court," added another lawyer, Majellan Kazibwe.
Read Also: Bobi Wine accuses the military of killing his bodyguard as journalist is shot
Setting the record straight, Uganda Prisons Commissioner Johnson Byabashaija, however, said the 'delay was occasioned by lack of transport'. "The other day we had been ambushed, we did not have transport to take that big number of suspects to court. But today (Friday) we sent a bus from Kampala to take them to court," said Kazibwe.