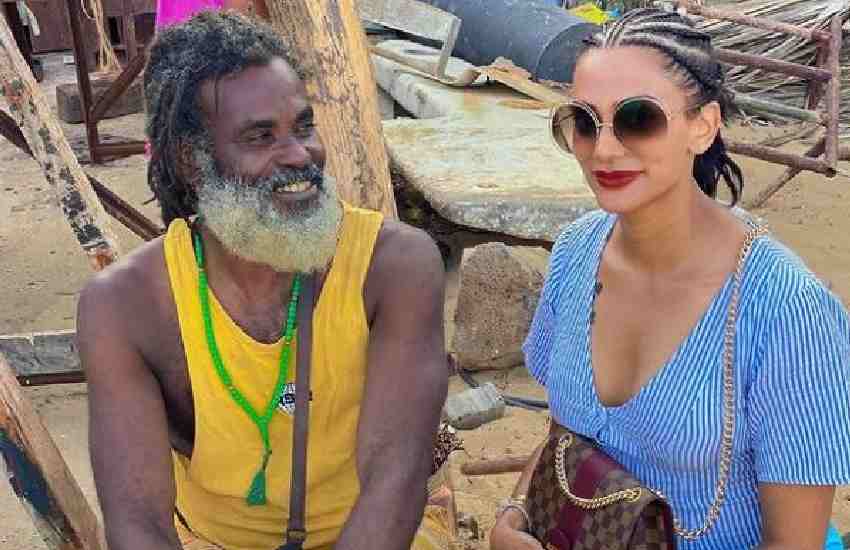 Omar Lali, the boyfriend of the late Keroche Breweries heiress Tecra Muigai, January 8 shut down speculation about his relationship with Koko Kamillah.
Read Also: Why would I kill my love? Omari Lali narrates how Tecra Muigai died
Responding to reports of supposed romance with Kamillah after a photo them at a beach in Lamu surfaced, the 51-year-old said he is single. "She is my friend; she is not my girlfriend. I don't have a girlfriend. The time is not ready yet, and when the time is there, you guys will find out, because; I am still here, I am still living. I am still human," said Omar.
A message which echoed Kamillah's sentiments, who earlier shut down speculations from netizens opining that Lali got over the loss of Muigai, who died on May 2, 2020, of injuries she sustained from what is believed to have been a fall, and moved on swiftly. "So I woke up today to lots of DM's and WhatsApp messages telling me that I'm trending... (For the wrong reasons). Someone took my pic with my old friend and posted it with totally out of context captions and now I'm just enjoying the show," Kamillah posted on her Instagram account.
Speaking to the Standard in September 2020, Lali said Muigai had a 'certain light around her' and is irreplaceable."She was a special lady. Even I know there can never be another like her. God had his reasons for taking her this early. We will never know why. I miss many things about her. You would never get bored around her. She never talked ill about anyone else. She was sensible. Always had a smile on her. Her smile and her heart were the same. Sometimes I think if I talk about her like this the world will become jealous and get back at me," he said.
Lali's murder charge was withdrawn in July 2020 by the Director of Public Prosecutions (DPP) in a virtual court session presided over by Lamu Principal Magistrate Allan Temba, who ordered an inquiry to establish the cause of Tecra's death at an apartment in Shela village, Lamu. According to the DPP, the decision was taken after a comprehensive review of toxicological evidence, detailed post mortem reports, phone records and other documentary exhibits and witnesses' statements.
Read Also: I loved Tecra too much to harm her - Omar Lali
Results of an autopsy conducted at Nairobi's Lee Funeral Home by Chief Government Pathologist Johansen Oduor revealed that Muigai died of injuries she sustained on the left side of her head. She was later laid to rest at the family's home in Naivasha in a private ceremony.