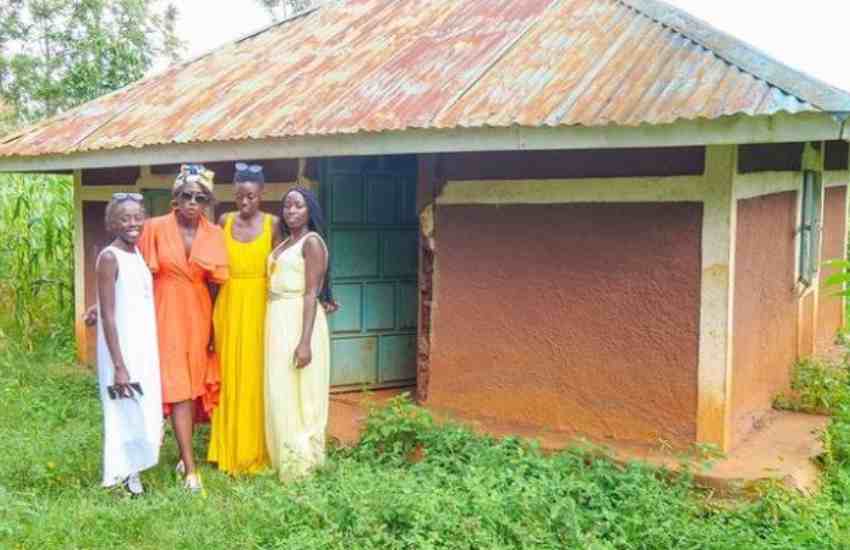 Roberts Woody Okello, the second-born son to multi-award-winning singer Esther 'Akothee' Akoth, died at eight months. The entrepreneur and philanthropist said in a heartfelt post, Thursday, January 7.
Read Also: Akothee flaunts palatial house, explains why home-ownership is key
Reflecting on Woody's death, her humbling beginnings, struggles as a young mother and relationship with her children, the Akothee Safaris founder said her son is buried behind a property she lived in with her daughters, Vesha Awuor, Celine Aggry, Prudence Vanpelt, and ex-husband Jared Okello.
"This is my first home, the house where I conceived my first four children; Vesha Awuor Okello, Roberts Woody Okello, Celine Dion Aggry Brown Okello and Prudence Vanpelt Okello. The secondborn didn't make it, he died at 8 months and was buried right behind this house," she captioned. "I lived in this house with my children while their dad was in university. I had a small shop in Kanga market, which I could only afford to open in the evening for one hour after I came back from school."
Adding: "I would wake up early in the morning, prepared my kids for school, dropped them at kindergarten (Kanga teachers quarters ) then walked 2 kilometres to Kanyaserega Secondary School to finalise my secondary school which I had left in form two...... One more time - courage. All my children look alike coz I concentrate on one man at a time, but not afraid to move on once it's over."
Opening up in October 2020 about her struggles, Akothee said her mother Yunita worried a lot about her future. The singer revealed that it was Yunita's desire to see her graduate, a dream she said will materialize in 2021.
"We fought for years until we finally became friends. The worries you had about my future are now solved. You know I am a responsible girl who will never embarrass you a second time. That was heavy. All your mates had their daughters in different Universities; your own, Akoth, was someone's house girl, giving birth like a chicken, with no direction. I remember your words up until now, "Nyathinani atim made jowa, amuonyi aduoki kose"," Akothee wrote in part.
"I remember you giving me pills so I don't give birth again, you took me to go have Norplant planted in my arm so I could finish school in Asego Kanyada. With confidence, you paid school fees and enrolled me in that school, but I took out the Norplant in the name of it was giving me a headache, and when Jared passed by to visit me in Homabay, boom - Prudence was manufactured. I left the house you rented for me slowly, and avoided you like a plague with my stupidity, again."
Read Also: Business lessons from singer Akothee
She went on, "Today, your only worry is that, is the man coming into my life a genuine, caring one, or one who will bring me down? Let's pray over it I love you, my queen. It hurts when your own firstborn daughter loses direction.  Awuoro sleepless night. But I came out alive and I am back to school now. I promise to graduate in 2021 just to fulfil your dreams and make you proud in front of your mates."