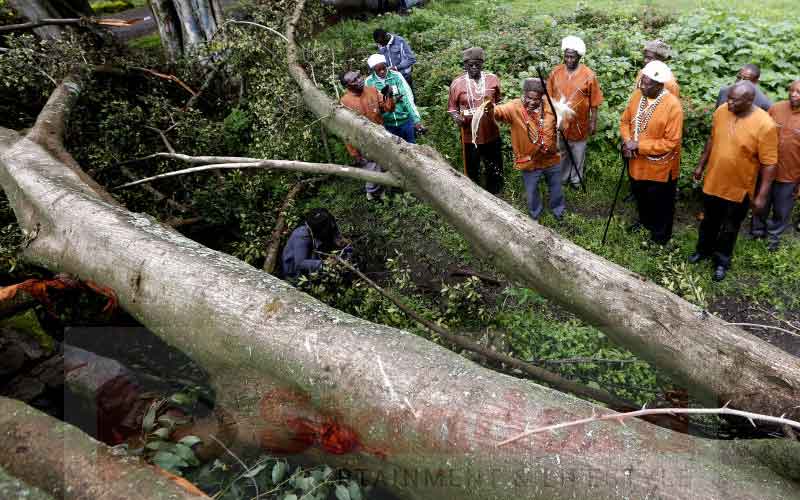 A fig tree, known among the Kikuyu community as mugumo has fallen causing panic among residents of Nyakahara village. Even though the falling of the tree on a parcel of land owned by businessman Kinyua Ngunjiri would appear normal to many, to the Kikuyu community, it symbolises the coming of a negative or positive event. According to Stephen Mwangi, the tree, considered sacred, went down at 2pm on Friday, January 1, in a heavy thunder sending shivers in the neighbourhood.
READ ALSO: Panic hits Kiambu church after Mugumo tree grows on the rooftop
The tree, about 30 metres tall, fell barely 20 metres from a building being put up by Ngunjiri, in a place claimed to be a holy shrine by elders. Kikuyu traditions state that the mugumo tree is sacred and should be treated as such. The trees were treated by ancestors as holy and they offered sacrifices and prayers on places where they grew.
Cut down
When such a tree falls due to natural causes, they are to be left to rot. If the tree is cut down, another one must be planted at the same spot to avoid a curse. Mwangi said a controversy has been brewing between a section of elders and Ngunjiri as to whether the land where the mugumo trees are was private or public. Ngunjiri said he has occupied the land for the last 10 years and that his project had been approved by the National Environmental Management Authority (NEMA), and the county government among others.
READ ALSO: Mugumo tree fell in Muranga hours before Matiba died
"When I was a young man, elders used to offer sacrifices under the tree adjacent to where I am putting up the building. But this is no more. Ever since I acquired the parcel of land, I have not witnessed these ceremonies," Ngunjiri said.