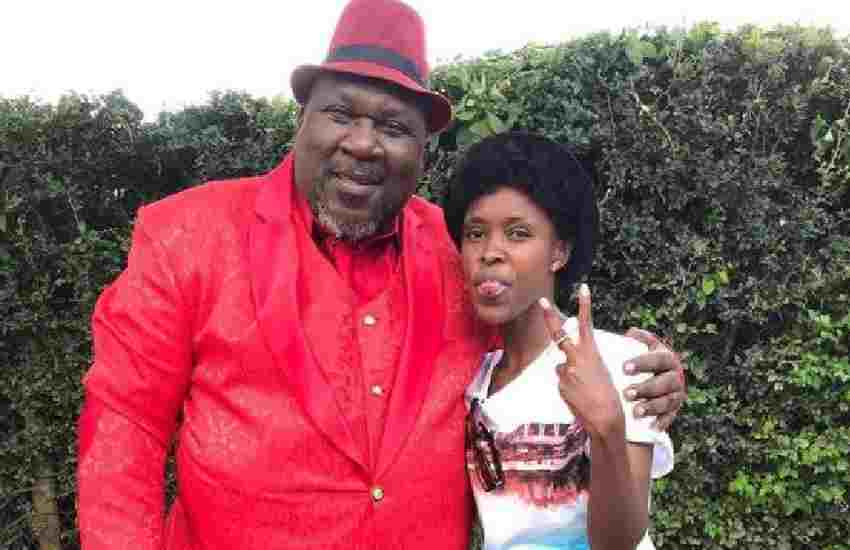 Papa Shirandula's funeral did not achieve balance between safety and humane burial. This is according to Shirandula's protégé, actress Jacky Vike alias Awinja. Taking to Instagram to cleanse herself of hurt from 2020, Awinja Friday said the funeral conducted by Public Health officials in hazmat suits on July 20 in Funyula, Busia County, failed to 'ensure respect for the grieving, funeral rites, and memorials'. 
Read Also: Why Charles Bukeko was perfectly fit for the role of Papa Shirandula
Awinja said though Shirandula, real name Charles Bukeko, died from complications of Covid-19, his burial was unlike any other, and offered no comfort and closure courtesy of strict guidelines laid down by the government for funerals during the peak of the pandemic. The protocols were later relaxed to allow families accord loved ones a decent send-off.
She posted: "The way everything was conducted during Papa's burial still hurts me to date. I still feel everything was done for TV because I have attended and seen burial of "COVID 19" cases and it was not the same as Papa's. The Ministry of Health (MOH) - who should be knowing better on stigmatization - treated us like we all were confirmed cases of Covid-19. Yes, I understand you have to adhere to all measures but some things were unnecessary! Some of my colleagues arrived at 4:00am that morning and the MOH officials were there waiting for us."
Mourners from Nairobi – where Shirandula had been receiving treatment since July 13 before passing on at the Karen Hospital - were victimized, claimed the actress. "Our movement was restricted and even going to the toilet was a problem. Toilets would be fumigated if any of us visited. Kidogo wachote hio waste wa fumigate, mahali mtu wa Nairobi alikua anakanyaga ilikua fumigated each and every step, mtu wa Nairobi alikua anagusa anything unachapwa fumigation utafikiria uko kwa 'JKL Live' umetoa point ya mauwano, this instilled so much fear and sadness to the villagers and relatives in general."
Read Also: Awinja moves netizens with photos of Papa Shirandula's brother
Awinja added: "As you all saw, since it was live on TV, no one could get near the gravesite or the coffin, so hatukuelewa vile hii virus inapita bodybag yet coffin imeshinda ikichapwa fumigation from mortuary all the way to the homestead. We were on location, but we watched the burial on ViuSasa like everyone else. After the burial, Nairobians were literally chased from the homestead! This really broke Mama Papa's heart she couldn't understand anything that was going on. It was never the same after we left, the neighbours avoided the family, even buying anything from the shopping centre they had to send someone from a different family." 
The 58-year-old thespian left behind a widow - Beatrice Ebbie Andega, and three children.