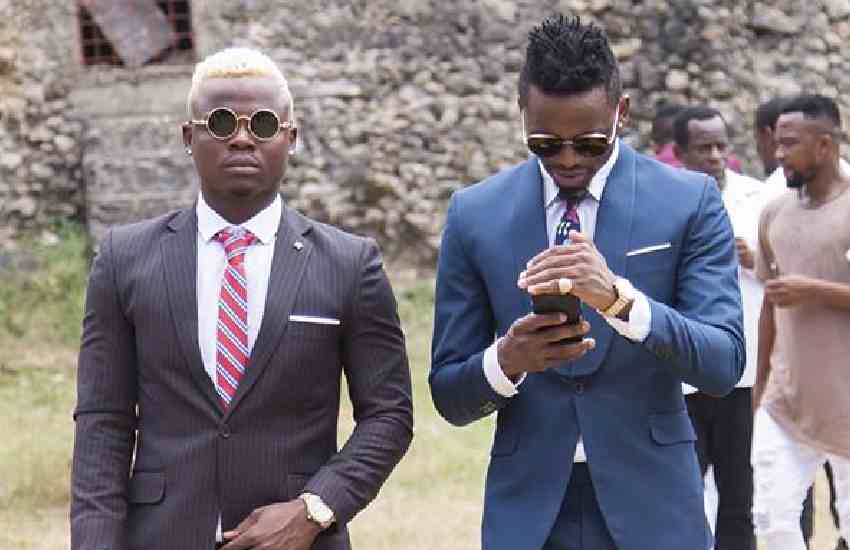 Singer Harmonize Thursday issued a surprise end-of-year message to his former Wasafi Classic Baby (WCB) boss and mentor Diamond Platnumz.
Read Also: You are not the father! Sarah Michelotti blasts husband Harmonize
As millions of their fans prepared to celebrate the turn of the year 2021, Harmonize posted an Instagram message to Platnumz, real name Naseeb Abdul Juma, stating that the A Boy from Tandale crooner transformed his life.
"Speaking this from the bottom of my heart, I love you, bro. It is a new year, 2021. Thank you for changing my life. You alone saw the gold in the dirt amidst great darkness. Today Africa, especially special East Africa is proud of me," the Uno hitmaker shared.
"This love is forever my brother. Everything I have done it's just to make you proud. Don't get me wrong, read between the lines; you know what I am talking about. You're the legend one, stay cool. #Kondeboy and all Konde Gang team we love you. Happy new one. Chibu (Dangote) Diamond Platnumz - big brother."
No love lost
The pleasant post came hot in the heels of reports of warming ties between the two after almost a year of alleged beef following Harmonize's decision to want out of his contract with WCB in 2018. News of the development first tore off the cracks and blossomed in March 2020 after Platnumz posted a tracklist to Harmonize's 18-track album, Afro East, on his Instagram account.
Platnumz is said to have publicly patted his protégé's back after Harmonize reportedly settled a Sh22 million (TSh500 million) bill with WCB, officially triggering a release clause in his contract. "Niwashukuru uongozi wangu wa zamani (WCB) na wa sasa kwa kunivumilia kwani imetumika busara kubwa hadi kumaliza deni. Nimelipa kidogo kidogo kwa kuuza baadhi ya vitu vyangu hichi na hichi hadi sasa nimefanikiwa kulipa deni lote," Harmonize had earlier told Clouds FM.
In September, Platnumz took to social media and told off a fan mocking Harmonize after the self-styled Konde Boy embarrassingly fell while performing at the Benjamin Mkapa Stadium in Dar es Salaam moments after arriving by ziplining from a helicopter in honour of Yanga Football Club. "Kuna kijana wako kaanguka huku, nafikiri amesahau mazoezi ya WCB," the fan told Platnumz. "Ajali Kazini, inatokea wakati mwingine, Msimcheke, Muombeeni, ndio uungwana," he responded.
Harmonize would later return the favour when he publicly defended the Bongo Flava star, billed by some as the greatest of his generation, after Cheche, a hit song featuring fast-rising songbird Zuchu, was pulled down from YouTube over copyright claims.
Read Also: Six legendary artists Diamond Platnumz has collaborated with
"So what's making you happy here bro? You are out here bringing this news with so much excitement. Or you thought you would make me happy? It is an accident at work, and copying a style is normal especially if you have done many things in the bongo industry. Through God's grace, it will be back. Let's us sympathize with each other so that we receive God's blessing," stated Harmonize while responding to a fan who was revelling at Platnumz's misfortunes.