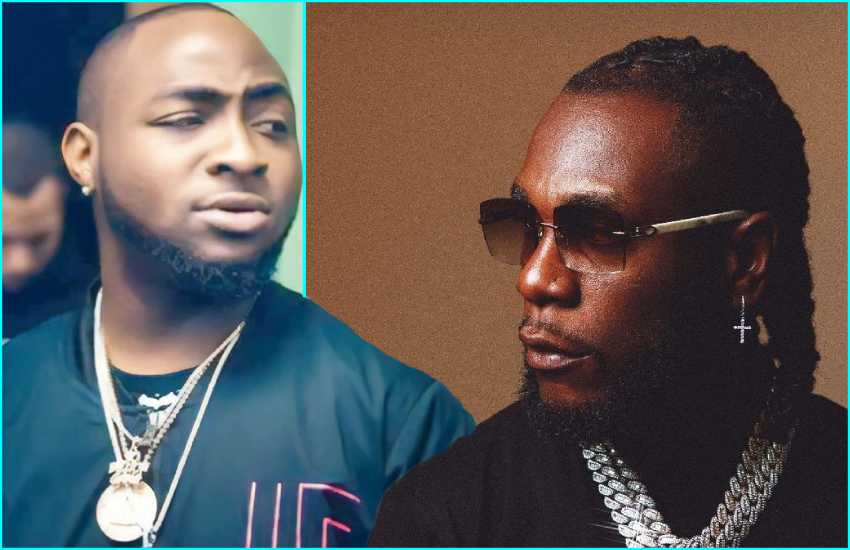 A video of Nigerian Afro-pop heavyweights Burna Boy and Davido clashing at a nightclub in Accra, Ghana has surfaced. According to local media, the two, who have been beefing for months, locked horns over the weekend after Burna Boy allegedly made way to Twist Club and Lounge where Davido was reportedly partying with Starboy crooner Wizkid.
Read Also: Please tell me I'm dreaming, says Davido as he mourns bodyguard
In a nine-second clip doing rounds on social media, an angry Davido is seen exiting the entertainment joint flanked by two companions, who, according to Ghanaian blogger Ghhyper1, were calming down the 30 Billion Gang star following palpable tension and antics between both camps which nearly degenerated into an all-out brawl. Speaking to Punch, an eyewitness - Steven Mingle - said Burna Boy was soon after ejected from the premises by Twist Club and Lounge security guards.
"Davido was having fun with his guys; I was also there beside him taking some shots. The place got choked, so, I had to excuse myself and stayed by the door to get some fresh air. When I was standing by the door, I saw Burna Boy and at least six guys following him. One is a popular guy who spends in the club and the others are the muscular guys. When Burna Boy entered, he did not come to chill there because he just came to attack Davido. He just went straight to Davido," Mingle was quoted as saying.
Adding: "The club's bouncers had approached them to ask where they were going but when he showed his face as Burna Boy, they allowed him. Davido spotted him and his look showed that he was wondering why he (Burna Boy) was coming to his table but he stood his ground. Just like boxing face-off, the next thing blows started flying; the girls and people inside Twist Lounge had to run; I also ran. The Twist bouncers forced Burna Boy and his guys out of the premises. Even when they were going, Burna Boy hit the club gate. Davido had to wait for about one hour thirty minutes before he moved out because of security reasons."
Davido and Burna Boy's escalating beef started in mid-2019 following the latter's nomination for a Grammy award for Best World Music Album for his highly acclaimed body of work, African Giant, but lost out to Beninese legend Angelique Kidjo.
Read Also: Here comes the 'African Giant': How Burna Boy is redefining music
Making a return to social media after a hiatus following the surprise loss, Burna Boy - in response to a fan who opined that his success was paved by pioneers such as iconic Pan-Africanist and composer Fela Kuti, declared that he was self-made.  A position that did not sit well with Davido who fired back that he and Wizkid were the greatest of all time - sparking a yearlong feud that had, until the Accra incident, been largely domiciled in social media.