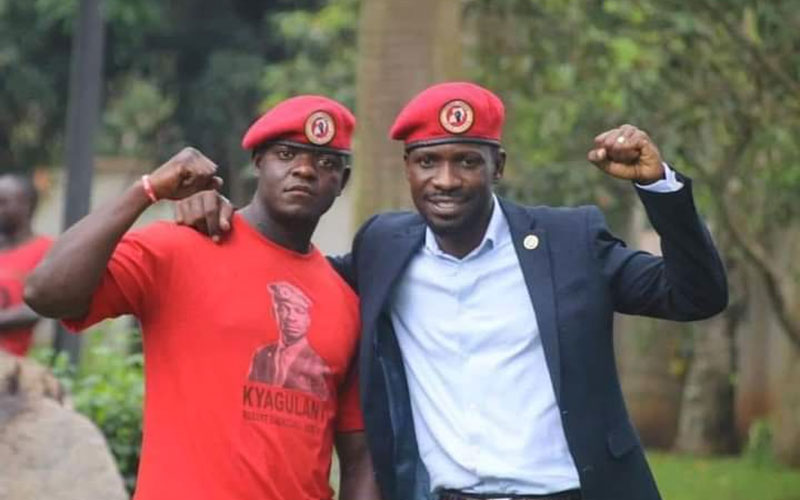 Uganda's opposition politician Robert Kyagulanyi alias Bobi Wine has accused the military of killing his personal bodyguard on December 27. Francis Senteza Kalibala passed away after allegedly being run over by a military vehicle. In a statement released via social media, Bobi paid tribute to his bodyguard, saying he hopes the death was not in vain.
"I regret to announce the death of our security team member Mr Francis Senteza Kalibala also known as Frank. Francis was run over by a military police patrol truck Number H4DF 2382 which had blocked us in Busega as we were taking comrade Kasirye Ashraf for emergency medical attention in Rubaga hospital. Francis passed away a few minutes ago at Rubaga hospital. May your life never perish in vain brother. Rest in peace. A very sad day!" wrote Bobi Wine.
READ ALSO: Bobi Wine accuses Ugandan police officers of shooting at his vehicle
However, the Ugandan People Defence Force (UPDF) dismissed reports Francis was run over by their vehicle, instead claiming he'd fell off a speeding car.
"UPDF would like to clarify that the late Senteza Frank, a NUP candidate close protection person was not knocked by a Military Police Vehicle as purported, but rather fell off a speeding Car Reg No UBF 850z (Drone) he tried to jump to but fell off," UPDF spokesperson Brigadier Flavia Byekwaso tweeted.
Journalist shot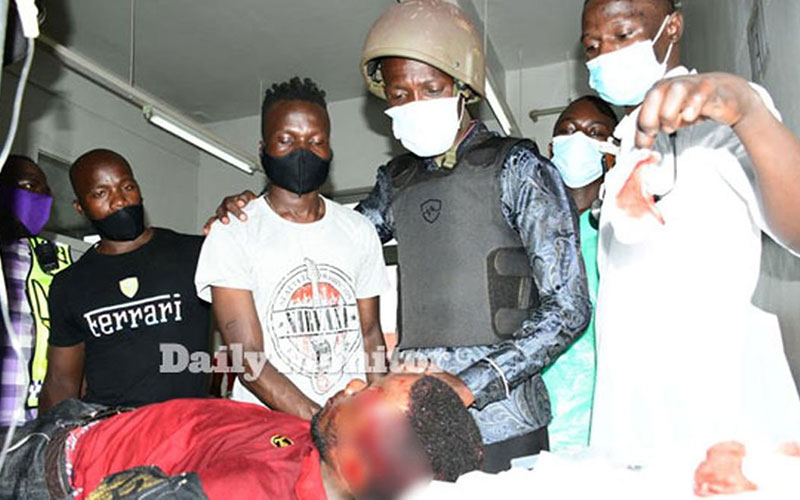 Frank's death is reported to have occurred while the NUP convoy was rushing a journalist shot in the head to hospital. Kasirye Ashraf was reportedly hit by a bullet while travelling in the same vehicle as Bobi after a scuffle ensued between NUP supporters and security forces. He was rushed to the Masaka Regional Referral Hospital before being transferred to Kampala Hospital for further treatment. Following the incident, the NUP suspended scheduled campaigns as Bobi headed to hospital to be with the injured journalist.
Bobi later shared graphic photos of the injured journalist who's in a critical condition with the caption: "Pleading with God to save the life of this wonderful soul.  To you Gen. Museveni and the criminals you command to target and murder Ugandans, you must understand that your time is soon running out. This is our country."
READ ALSO: No part of my body was spared -Bobi Wine narrates torture
Police spokesperson Fred Enanga however refuted the claims saying Kasirye sustained blunt force trauma above the left eye after allegedly being hit by a teargas canister.
"Tear gas was used to quell the violence and journalists were regrettably caught up during the process of dispersing the violent group. Notably among them was a Ghetto TV crew member identified as Ashraf Kasirye, who sustained blunt force injuries above the left eye allegedly from a canister. The victim was rushed to Masaka Referral Hospital for medical attention. He remains stable but in serious condition and on transfer to Kampala for better management," he said.