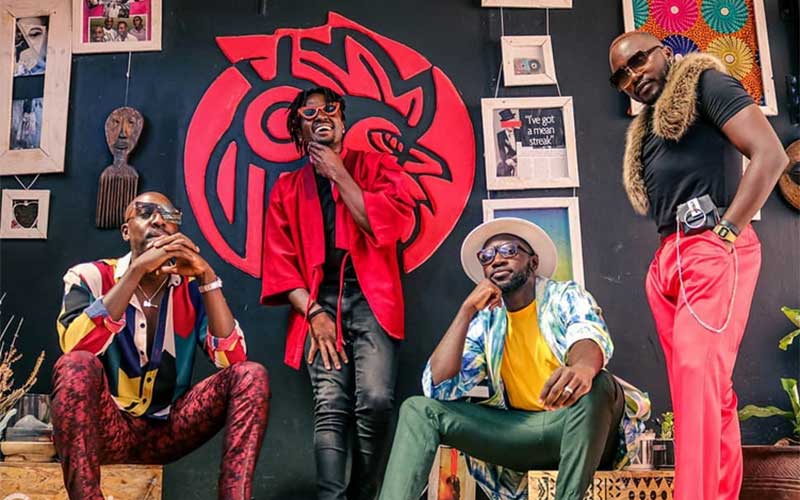 Following the cancellation of Sauti Sol's 'Sol Saturday' event, one of the food vendors has accused the award-winning group of arrogance. Via her YouTube channel, the proprietor of Kari's Kitchen claims she incurred Sh300,000 loss after procuring food for the event which was called off last-minute. She further disputes the explanation the group offered for cancelling the event, saying it had nothing to do with COVID-19 but their dissatisfaction with the stage setup.
"I was contacted by events managers from Masshouse group and Tukutane Entertainment and they asked me if I wanted to be a food vendor at an event. I was excited at the prospect because they told me the headline act will be Sauti Sol. At first, I was one of the general vendors at the general section and then about two weeks ago they sent another message saying they wanted me to be the food vendor for VIP section holding around 500 people.
READ ALSO: It scarred me for life — Sauti sol's Bien opens up on difficult childhood
"For this event, I spent about Sh300,000 which I acquired through a loan. Currently, I have 500 burgers in my freezer, 200 hot dogs, 63kgs of chicken wings, four litres of sauces and 20 litres of ice cream for the milkshake. I also had to buy a freezer and hire another one. I bought banners for branding that are now sitting at my house."
Last minute-cancellation
According to the Kari's Kitchen proprietor, preparations for the event were in high gear and on December 18, the organisers informed all vendors to be set up by 10 am Saturday to allow for a bomb sweep.
"The day before the event, I decided to start setting up to meet the 10 am deadline. I got a pickup, put the freezer and delivered it to the event. I went back home to pick my grill and that's when I called one of the organisers and told them I had left my freezer but would be back shortly. The guy told me 'I have bad news.'
"He told me the event was not going to happen. It was 9 pm on Friday!"
Reason for cancelling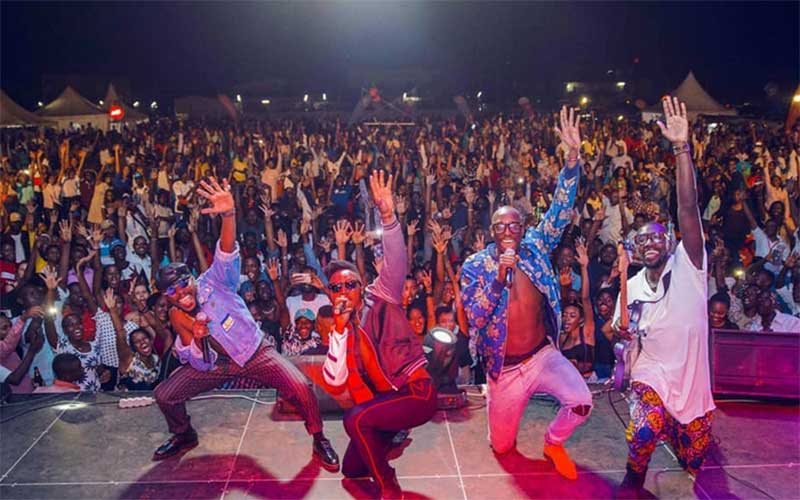 In tears, she headed back to the venue to seek an explanation for the cancellation and was told there were a lot of disagreements and Sauti Sol didn't want to perform.
"I don't think I have ever had a panic attack as big as the one I had on Friday. I was almost going to the hospital because I could not have spent Sh300,000 on food and on my way at the event I'm being told all this food is going to waste. It didn't make sense to me.
READ ALSO: Sauti Sol makes history with super Netflix original deal
"When I asked the reason for cancellation, Sauti Sol said the stage was not good enough. The poster they put out said it was due to COVID-19 but the pandemic has been around for a year. You cannot come out hours to the show and cancel it because of COVID. What hurt me is that these guys were paid $30,000 to perform but they were too arrogant and selfish to understand so much hard work and preparation had gone into the show. All they had to do was show up even for 30 minutes."
When reached for comment, Sauti Sols' lawyer Moriasi Omambia referred us back to the statement issued by the group saying the move was aimed at "protecting lives."
The statement released by Sauti Sol read in part: "Although we deeply desire to give you a marvellous show, we cannot in good conscience assure your health and safety which is our highest priority….With the recent uptick in confirmed infections and deaths around the world we cannot in good conscience recklessly endanger your wellbeing. We shall be refunding the promoters, Tukutane Entertainment Limited and Masshouse Group limited the full performance fees duly paid to us without delay so that they can provide swift refunds to you. It is disheartening and unfortunate, but necessary and we hope to appear on stage again as soon as we can do so safely and responsibly. Stay safe."