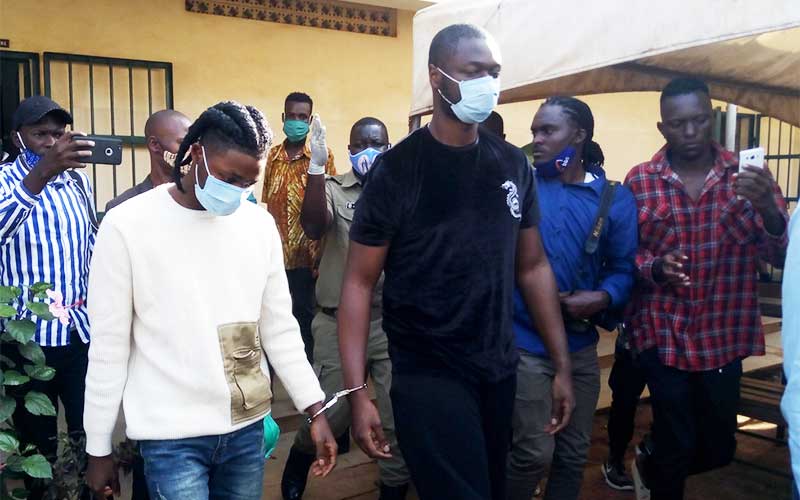 Uganda presidential hopeful and musician Bobi Wine has criticized the arrest of Nigerian Singers Omah Lay, Tems and manager Muyiwa Awoniyi for allegedly breaching COVID-19 laws to perform. In a message via social media, the 38-year-old accused President Yoweri Museveni's government of double standards in implementing laws aimed at curbing the spread of the potentially deadly virus. Bobi Wine wondered why the singers had been granted a work permit and even performed under police protection only to be later arrested. He further questioned why Museveni's supporters were not apprehended despite violating the laid down procedures on social dancing during the campaign trail.
READ ALSO: Uganda opposition presidential candidate Bobi Wine arrested
"The arrest of Omah Lay, the Nigerian artist is not about COVID19. It's an act of shame by a corrupt government that operates on double standards. The artist was booked, obtained a work permit and performed under police protection, why arrest him? While some Ugandan artists are staging pro-Museveni shows with thousands of people in blatant violation of the same SOPs under the guard of police and the military, a foreign artist is persecuted to cover up the shame," he wrote.
However, singer Cindy Sanyu had a different say on the matter, terming Omah Lay an 'idiot' for sharing photos from the performance on social media. In her argument, Cindy said it's ironic for Ugandan artists to be 'starving' due to cancelation of concerts, yet a foreign artist was allowed to perform.
"In all our silence, a foreigner had a concert in this country and filled up a concert where there was no social distancing, there were no masks and this idiot even posted it online. He was very proud about the fact that he had a successful concert in Uganda. I don't agree with this. It's not fair, it is not right by any standards that you look at it. It was a concert and it happened during the lockdown while artists here are starving," she said.
READ ALSO: News reporter Joy Doreen Bira arrested in Uganda
Nigerians speak out
Omah Lay's arrest alongside two others prompted Nigerian musicians to call for his release through the hashtag #FreeOmahLay:
what is going on? @PoliceUg why are Omah Lay and Tems being mistreated?! #FreeOmahLay#FreeTems everyone please let's create more awareness on this, it's no longer funny ! — Fireboy DML (@fireboydml) December 14, 2020
Wasn't there prior publicity about the show? why wasn't it shut down before it was held? why are you arresting some particular artists that performed? Who organised the show? #FreeOmahLay#FreeTems — Laycon???? (@itsLaycon) December 14, 2020
There is no rule of law in Uganda. This country runs on orders from a small circle of oppressors who dispense orders that are implemented without question. There's absolutely no reason why our brothers should still be detained yet their concert was under police watch #FreeOmahLayhttps://t.co/4AjP1hTuMj — BOBI WINE (@HEBobiwine) December 15, 2020
Please keep Omah Lay and Tems safe, they shouldn't be targeted or treated unfairly. ???????? #FreeOmahLay#FreeTems. — Cuppy ???? (@cuppymusic) December 14, 2020
Other Africans nations are watching how the Nigerian Government responds to the treatment meted out to @Omah_Lay and @TemsBaby by the @PoliceUG. If the FG does nothing and we the citizens don't push #FreeOmahLay#FreeTems, it will be open season on Nigerians everywhere in Africa! — Reno Omokri (@renoomokri) December 15, 2020
That's our next rated for crying out loud #freeomahlayandtems#FreeOmahLay#FreeTemspic.twitter.com/eykzIrtOpT — Bright Nyemonwu (@BrightNyemonwu) December 14, 2020
If it was shatta wale that was Arrested in Uganda like some people in our music industry will try their possible best for them to jail me like 6years ????????????????????#FreeOmahLay#FreeTems
Ghana creative arts should start learning form Nigerians .. This is what we call Love ?? — SHATTA WALE (@shattawalegh) December 14, 2020
They should not be treated like this! @PoliceUg ?! they were invited for a show organised by your citizens, granted visas, tickets were sold publicly on the WORLD WIDE WEB! this anarchy should not be targeted at the artists! #freetems#FreeOmahLay — Burna Boy (@burnaboy) December 14, 2020