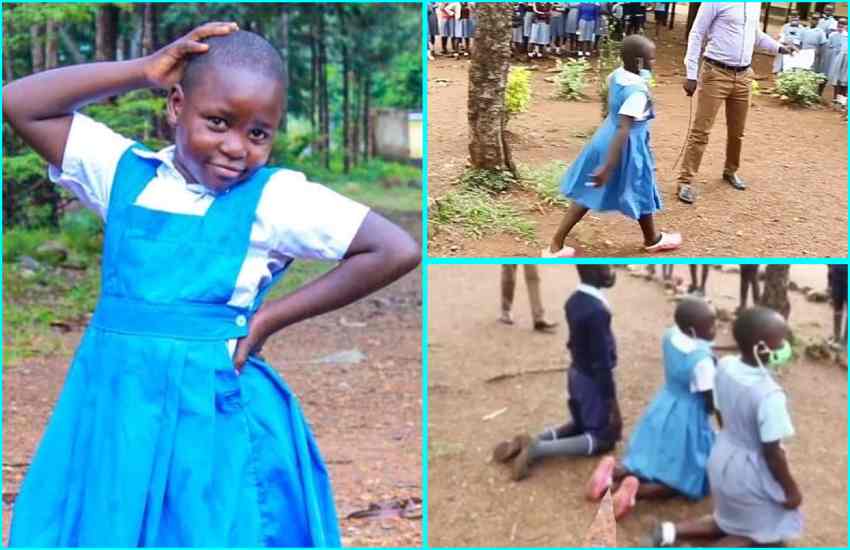 A 9-year-old fast-rising comic is for the third day running trending on social media after a video of her showcasing a rebellious side to tertiary school life went viral across the region.
Bridget Bema, the younger sister to veteran Churchill Show comedian YY, real name Oliver Otieno, who played the School Administrator, is talk on social media after she captured the imagination of the nation by ably personifying her character, who, in the clip, is singled out for committing multiple offences.
In the video, Bema is seen kneeling in a row before the school's entire assembly with other pupils found liable for misdemeanours. As names of those who are to answer to varying cases of indiscipline are called out, Bema's, to the shock of her teacher, is listed in every case and cranks up notoriety with every mention.
Check it out below...
The video has seemingly resonated with many, especially on Twitter, who lauded her for the concept that captured facets of every schoolgoer's experiences, especially in East Africa.
Bridget Bema is a typical example of "you again" ???????? A thorn in the flesh of teachers. ???????? Violence...ayeee! pic.twitter.com/vvQU9AkbbC

— Tc (@eric_tc24) December 10, 2020
Bridget Bema truly understands the concept of go hard or go home. ????

— M.anifest (@manifestive) December 9, 2020
Bridget bema is the real mvp all HAIL the queen ???????????????????????????????????????????????????????????????????????????????????????????????????????????????????????????????????????????????????????????????????????????????????????? pic.twitter.com/jefcAavUcp

— Akinboye isaac Oluwatosin (@akinboye_isaac) December 9, 2020
Bridget Bema, a legend!

— emmanuel. (@mr_asabere) December 9, 2020
Bridget bema looking at the teacher calling her name in all category ????????????????#TachaOfToday pic.twitter.com/6xa0UVspVG

— ???? Official Genesis?? (@OfficialGenesi8) December 10, 2020
Bridget Bema's dad when the teacher told him about his daughter's behavior in school...???????????????? Bridget Bema pic.twitter.com/9YxX8Qngn3

— Fr3 me Kwabena???? (@derrick_himself) December 9, 2020
Bridget Bema parents be like!! is this gal ours??? #bbinonesence Raila pic.twitter.com/c6OVIrzOXn

— Patrick Maina (@pati_maina) December 10, 2020
Short and brief people are known to be troublesome just like that Bridget Bema pic.twitter.com/a2eDF0Pcd6

— SOULJAH BOY ????????????‍?????????????????????? (@godbless_naija) December 9, 2020
Destined for greater heights and dubbed by some as Kenya's Emmanuella Samuels, Bema towers over her peers and is gaining traction as a force to reckon with. She first made waves after YY introduced her in an NTV interview and is generating a buzz on YouTube and Facebook for her original, witty comedy pieces.
With the video above generating rave reviews, the comic is in a perfect trajectory courtesy of her established sibling who on November 10 acknowledged her in a heartwarming birthday message. "Happy birthday Bridget Bema, I cannot wait to see what you have in store for us," he wrote.
Related Topics