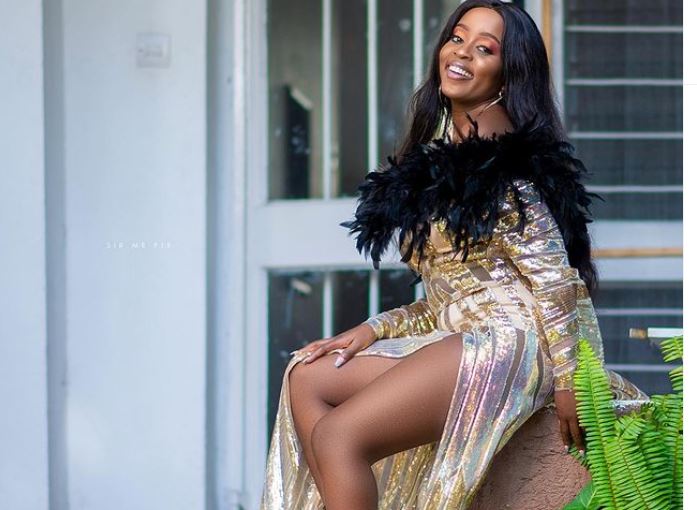 Pop musician Nadia Mukami has landed yet another win, this time bagging a lucrative deal with Safaricom that saw her named as one of the BLAZE by Safaricom mentors. She took to Instagram to share the news, sharing a picture of herself on the BLAZE set, captioned, 'On set at Safaricom BLAZE MENTOR! Financial Discipline got us here. One year later it is opening doors!!"
Financial Discipline
This endorsement is due to her Financial Discipline Journey program that she has been running for over a year. The program is a brainchild of the singer, who is a Financial Graduate and Guru and seeks to cultivate the youth's saving culture. 
It's a 24-week program with the members opening a lock savings account and depositing any amount every Monday. She has a WhatsApp group for people who have signed up, and they keep track of records of their savings; failure to save for three consecutive weeks leads to dismissal.
ALSO READ: Popstar Nadia Mukami reveals little known secret about her life
Nadia also frequently advises members of the program and fans on all matters finance through videos on her social media platforms. It is an initiative that has seen many of her fans join and has shared people's testimonials on how saving has changed their lives.  According to Nadia, 'the aim is to be a great artist, not just a famous artist. It's how you made people feel, and it's how you impacted them.'
Wins
This year has been a winning year for the Kenyan musician. She released her first studio EP, 'African Popstar' – that features collaborations from Khaigraph Jones, Sanaipei Tande, and Fena Gitu- which was well received by music fans.
ALSO READ: Songbird Nadia Mukami set to release new EP dubbed 'African Popstar'
African Popstar topped charts and has earned her various nominations. This year, Nadia and boy band Sauti Sol were the only Kenyans nominated for the BET Awards round one nomination under the category of 'Best International Act'. The final list still needs to be approved. No Kenyan act has been nominated for the BET Awards since 2015 when Sauti Sol bagged their first nomination. 
The 23-year-old Nadia was also shortlisted for the Africa Music Magazine Awards (Afrimma) in this year's Best East African Female Artiste category. Her category includes Fena Gitu, Tanasha Donna, Akothee, Zuchu (Tanzania), Rosa Ree (Tanzania), and Vimka (Uganda). She has been pleading with her fans to vote to bring the award home.