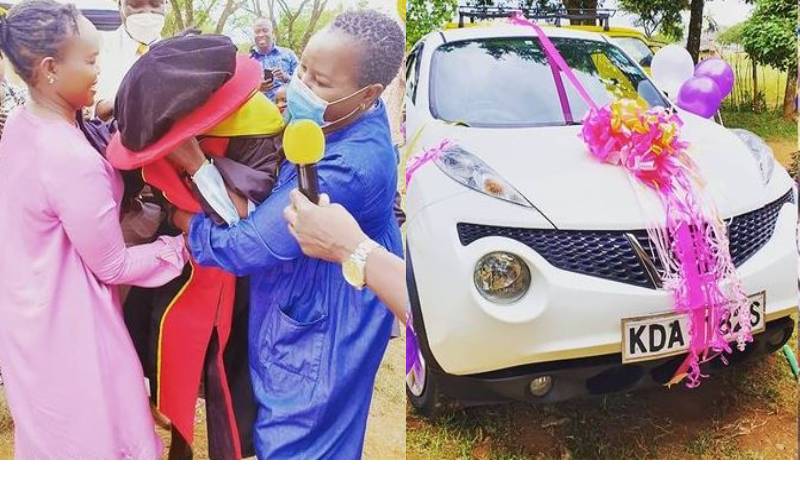 Gospel singer Emmy Kosgei moved several Kenyans on social media after gifting her mum, Dr Rosa Kosgei, with a white Murano following her graduation.
On Monday, December 7, the Taunet Nelel hitmaker posted images of her mum receiving the car on her social media platforms. In the photos, Emmy is seen holding her mother, who is in a full gown while she cried.
Captioning the images, Emmy said, "A great gift for a great selfless mother celebrating the rare #blackrose the heartthrob of our father #DrJackson KosgeiBspEmerituson her honorary degree award ... love you, mum!"
ALSO READ: I am glad I said yes – Emmy Kosgei to husband on anniversary
Emmy Kosgei's move seemed to have inspired some Kenyans on social media who commented about the gesture. One user named Caroline Munene said, "Congratulations to your parents and the gift to your Mom is simply fantastic. You put a huge smile as well as tears of joy to your Mom. May God bless you and this shows how we should be showing our parents love and care. I feel so touched."
Purry Tasha said, "They deserve it, parents are the most valuable gift God gives us and they deserve the very best, because each parent have their own struggles bringing their kid's up, we enjoy everything not knowing Ile shida wanapitia, they put a big smile to make us happy in every possible way."
Susan Munyori echoed the same saying, "Congratulations to your parents Emmy. For mum is tearful coz women do what physical eyes don't get to see the whole picture & even some men. It's Wisdom & Such Humility to give Honor where its due especially when one can receive & experience it in person. This is Priceless. In the same measure may God Honor you & your siblings in this side of Eternity."
ALSO READ: Emmy Kosgei flaunts expensive ride with customized plate
A few months ago, the gospel singer, who is married to Nigerian Apostle Anslem Madubuko, paraded her white BMW with a customized plate 'Jemty M'.  The BMW's plate, drawn from her surname- Jemutai and that of her husband Madubuko, is believed to be her honeymoon present soon after their 2013 wedding.
RELATED ARTICLES