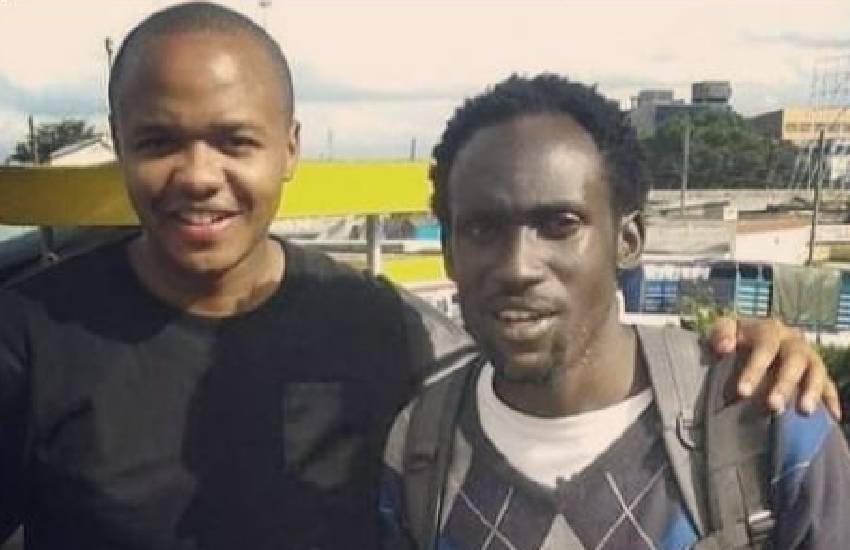 Comedian Steven Oduor Dede, popularly known as Dj Shiti, on December 3 took to Instagram to treat fans with an adorable throwback photo of him in Nakuru with gospel singer and former Bambika host, Holy Dave.
Read Also: I stole my mom's shirt for my first show -Dj Shiti
Opening up about the chance encounter in 2013, Dj Shiti captioned a moving message on humble beginnings and how hurdles became catalysts for his success stating that he was at a bus stop when he spotted the rapper and requested that they take a photo. He then seized the moment to disclose to the Ushawai Notice star that he was on his way to Nairobi for Churchill Show auditions. 
"I was waiting for Mololine Transit then I happened to see Holy Dave Muthengi in his car. I requested him we take a photo... I told him that am an upcoming comedian also heading to the city for Churchill Show auditions. He offered me a lift na nika save 400... Ndani ya hiyo gari nilikuwa naongea nyingi ndiyo asishuku amebeba mwizi anishukishie Naivasha. Hii usanii ni safari mrefu sanaaa... Natumepitia mazitoo wacha tu. Churchill ubarikiwe kwa platform imetuchonga sana," stated the Real Househelps of Kawangware (TRHK) A-lister. 
Whilst Holy Dave was kind, in aiding the aspiring entertainer to secure a place in the much-coveted comedy line-up, others offered no help. In a 2018 interview, the comedian revealed that when he arrived in Nairobi for a performance in Fred Omondi's Crazy Comedy, he became destitute after he was abandoned by family members.
"After the performance, I decided I'm not returning to Nakuru. I thought that relatives and friends would offer me a place to stay in Nairobi, even if for a short time. I called one of my cousins and told him that I am in Nairobi. 'So you are in Nairobi? Nice'. He never called back. When I called him again, he said he couldn't hear me properly. I called another relative who said he was at work but was planning on visiting a patient in the hospital afterwards. I called almost 10 people to no avail. Surprisingly, I was chatting with them but upon getting to Kangemi, their phones were switched off," said Dj Shiti.
Stranded and with nowhere to go, he approached a stranger for help who hosted him for a night in Dandora, a suburb east of the capital. When morning came, he hit the road and pounded the pavement in search of his big break. With no residence, he found kindness at night in the unlikeliest of places, Koinange Street.
Read Also: I stole my mom's shirt for my first show -Dj Shiti
"After rehearsals, I would hang around Koinange Street since it had fewer police patrols. Sometimes I would hang out in clubs but since I didn't buy drinks, bouncers would throw me out. I made friends with the sex workers along Koinange Street as I would often offer words of encouragement to them. One day, they asked me where I lived since they used to see me walking around with a bag. When I told them that I'm homeless, they took me to their house along River Road. If they had clients who didn't want to go to lodgings, they would take them to the house. After they are done with their business I would sleep there. The women of the night always encouraged me saying that I would make it big one day. After finally making it, I invited them to a Churchill Show performance and over ten of them showed up," he narrated.