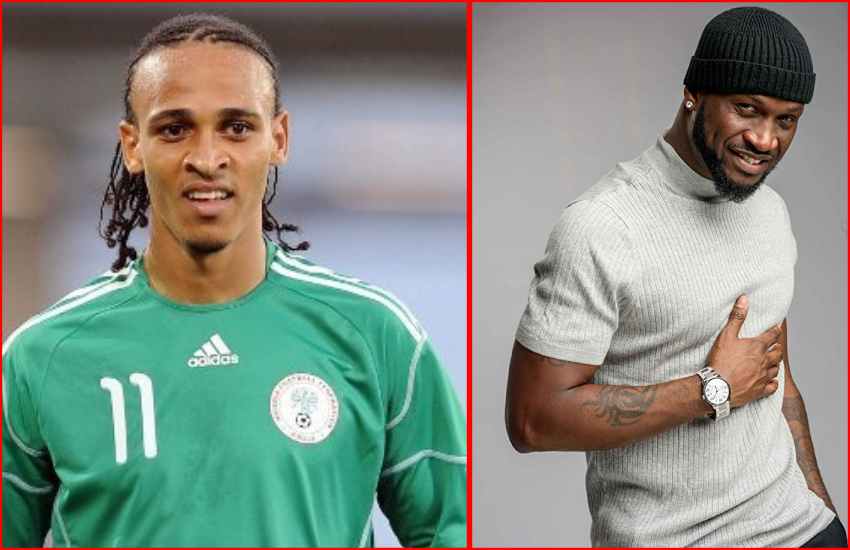 Retired Super Eagles and West Bromwich Albion ace Osaze Odemwingie is at loggerheads with singer and actor Peter Okoye, formerly of P-Square, over the latter's lucrative lottery business. The feud between the two came to fore after Okoye shared a screengrab of their conversation wherein Odemwingie expressed his disapproval of the business.
Read Also: Singer Paul Okoye narrates COVID-19 'hell' as his family recovers
In the post, the forward and winger with roots in Russia who famously scored against Bosnia-Herzegovina in 2014, questioned the singer's morality saying the one-half of P-Square twins is allegedly robbing his gaming customers and should halt a Christmas dance challenge that he is running.
"I clear some issues for our people. Careful with g**bling because we don't see what happens behind the scenes when people lose money or borrow to play. God bless Nigeria," stated the 39-year-old. "What happened to you, Peter? You are robbing people in broad daylight with that your nonsense business and now you want to take even Christmas from them? You no dey fear God at all?"
A scathing onslaught that did not auger well with Okoye who, in a no holds barred response, told off the former footballer. "Bro I tried to ignore but I'm so disappointed in you. If you are now close to God does not make you to feel others are close to the devil. I own a registered and licensed lottery platform just like every other individual does both home and abroad," he wrote.
Adding: "But coming to spill this rubbish just because you feel you are now closer to God! Bro my music never brought you closer to this your God in particular. Bro, you have been brainwashed Period. You look sick and you need help. Learn to mind your business and focus on that your God and your life. Disappointed. Please pray for my namesake Peter Osaze Odemwingie. All is definitely not well with him."
Read Also: Diamond's 'expose' on Zari kicks up storm, Peter Okoye responds
The father of two retired from football on April 3, 2019.
RELATED ARTICLES