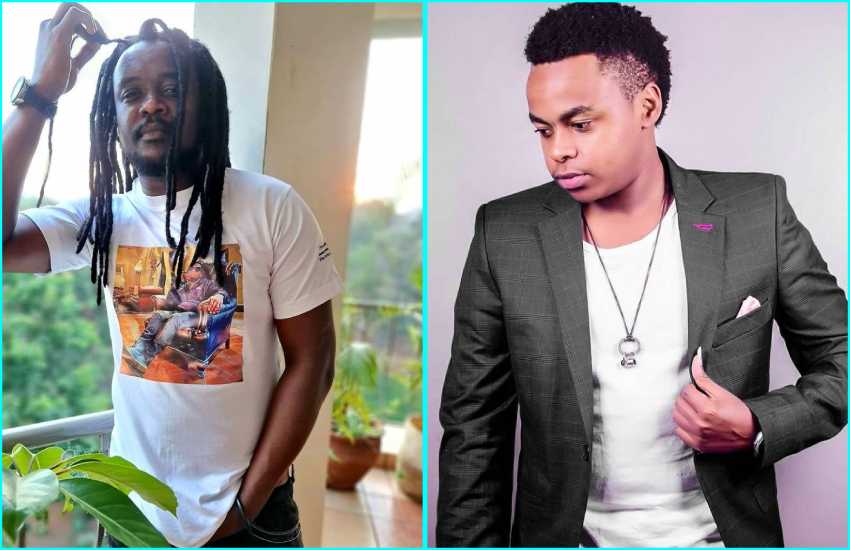 Lightning does not strike the same place twice, they say, or does it? In music, the expression skirts the edge of built-in-familiarity. Remixes, covers and samples represent the best of intentions by some artists to re-imagine a hit song, and, in rare instances, the reworked track lives up to or even outdoes its predecessor.
While it is widely understood that any edition that scores lower than the original is classed as a mistake - often measured by sales, views or streams - it is actually possible for a remake to improve on the original. Below are some Kenyan singers who've managed to tame and make lightning strike twice by releasing a successful follow-up to a classic.
Hayawani – Keam Kym and Melifla
Chart-topping pop, hip-hop and R&B artiste Nyamari Ongegu alias Nyashinski in 2017 charmed his way into millions of hearts after releasing his socially-conscious track Hayawani, to wide acclaim. The song's 2.8 million views on YouTube, as of December 2, would have been impressive enough for the soulful former Kleptomonaniax ace had songbird Keam Kym and Melifla not jumped on the bandwagon with a reggae cover and racked up over 6.2 million views!
Kaana Funny – Joyce Wa Mama
Veteran benga musician Kamande wa Kioi eight years ago shook Central Kenya's music scene with Kaana Funny – a humorous dig at his spouse over, among other issues, his son's weird behaviours and uncanny resemblance to local hawkers. Praised for his distinctive storytelling by fans, the song boasts over 47,000 views. Then came along Joyce Wa Mama, who in emphatic fashion responded to Kioi, explaining their son's oddities. She was rewarded with over 3 million views!
Wimbo wa Historia - Leila Mohammed
No song captures Kenya's dark colonial period than Wimbo wa Historia. Originally written in the 1970s by Enock Ondego detailing Mzee Jomo Kenyatta's arrest, the emotionally riveting song is a mainstay in independence celebrations. Though cased in an era when social media - quite representative of the popularity of the music of today - was non-existent, it has clocked over 109,000 views. It was thus refreshing in 2018 when teen singer Leyla Mohamed, then a standard eight pupil at St Teresa's Girls Primary School, breathed life to the song with a flare of modernity courtesy of her great vocals and emotional video. With over 2.2 million views to her name, the emotive piece hit the mark.
Kuongozwa (He leadeth me) - Guardian Angel
Written by Joseph Henry Gilmore in 1880, translated into several languages and sang as a hymn across the world, He leadeth Me is as popular in the west as Muhando's Nibebe in an East Africa crusade. With diverse reach and renditions, Angel's 2019 cover, boasting over 2.6 million views, is impressive, to say the least. It is sandwiched between a lyric clip of over 3 million views and a cover by Fountainview Academy (1 million views).
Notable mentions: Covers and parodies with over 1.5 million YouTube views
Suh different - Wambui Katee
Patoranking's 2018 dancehall song Suh Different was a mega-hit. Its over 20 million views tell it all.  Gifted  Katee took on the Nigerian reggae-dancehall singer and songwriter, and waltzed off with over 2.3 million views for her work!
Ex-Boyfriend - Scar Musiq
Released by Tanzanian singer Rayvanny hot on the heels of Coronavirus outbreak, Ex-boyfriend was a laidback yet unassuming track that quickly warmed into hearts over 6 million views. Impressed, Scar Musiq, dug deep for a heart-melting cover and was rewarded with 1.8 million views!
Love Potion - Kany Xcii feat Kyle
Released in 2017, the song by South African Afro-soul duo Mafikizolo is a timeless classic that continues to generate interest. By selecting the song which currently enjoys over 24 million views, Kany Xcii and Kyle had a message to send.  They walked away with 1.8 million views, and counting.
Utawezana - Dogo Charlie
2020 was with no doubt rapper Femi One and Mejja's biggest year. Released during coronavirus pandemic peak, Utawezana, offered a refreshing sound to dance the blues away. Its over 10 million views painted a picture of its success. Dogo Charlie, a rising parody star, was not to be left behind by the runaway hit, he took to the booth and pocketed over 4.5 million views!
Ugali - Padi Wubonn
Comedian Padi Wubonn is dubbed by some as the King of Parody - the second coming of Kajairo. When he released Ugali, a parody of Cut It by American rapper and songwriter O.T. Genasis which boasts over 223 million views, a lot was expected, and he delivered.  With 2.2 million views, he proved his worth.
Is Dr. Ezekiel Mutua over flexing his moral-reform muscle?