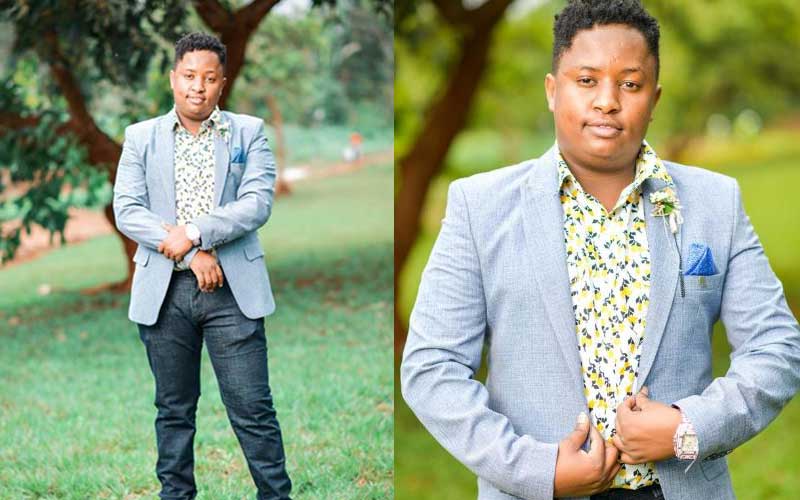 Brian Nduta, the CEO and founder of Muziika is a man on a mission. According to the young entrepreneur who's also the founder of the promotions and events, he aims to take Kenyan music to the world stage. In an exclusive with Standard Entertainment & Lifestyle, Brian says that through his company which also manages artists, he hopes to nurture young, upcoming artists.
"One of the ways we are looking at to elevate budding new musicians is by putting them in one song with established artists. I believe working with established artists will make the aspiring stars want to push the ante further to become the best versions of themselves," says Brian.
READ ALSO: I shunned my father's nursing dream to pursue music - Upcoming 'Love' singer Mell
Founded in 2019, Muziika has united artists for Gengetone hits among them Zimepanda, Kwa Kwa and Prr. Zimepanda, released five months ago is the highest viewed song on Youtube having thus far garnered 838,000 views. In the process, they've worked with VDJ Jones, Mbogo Genje and one of Mombasa's hottest acts, City Boy.
With Africa's music finally getting the international recognition it has long been starved of, Brian believes it's the best time for Kenyan artists to showcase their capabilities. Citing Burna Boy's consecutive nods for the Grammy Awards, Brian said, "Kenya is rich in culture which is not often reflected in our music but we need to figure out how to best package it for international audiences."
The CEO further asserts that discipline and consistency are some of the traits that go into making a successful musician and that 'hard work beats talent' any day.
COVID
Brian admits business was hit by the cancellation of numerous events due to the COVID-19 pandemic and he had to make adjustments to cope. For instance, to increase profitability, Muziiki transformed into a one-stop-shop for artists.
READ ALSO: The untold story of Ssaru, Gengetone's fast rising star
"At Muziika, we deal with music production, distribution and promotion," he says.
Speaking on the recent beef between Mbogi Genje and Gotta City's Madocho, Brian says unity among music industry players is vital.
rian also calls for artists to look for alternative sources of income to avoid going broke.
"In most cases, hit songs will last for a certain limited period during which artists get lots of gigs and endorsements. Fast-track years later when the song is no longer in rotation and a new generation commands what's being played, the artist should still be able to earn a living through alternative hustles. New artists, especially those doing Gengetone need to set themselves for life with all the hype the genre is currently witnessing."