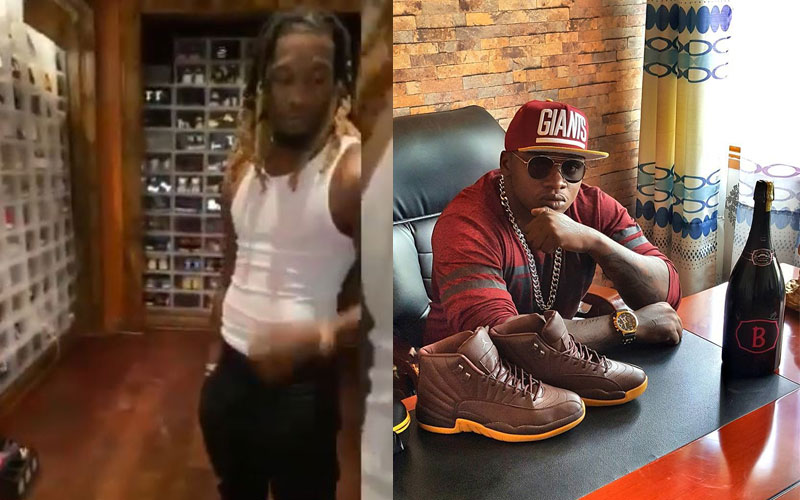 Cardi B has revealed that Offset owns over 3,000 pairs of sneakers while branding his collection 'ridiculous'.  In a video shared to her Instagram stories, Cardi took her followers inside a room housing thousands of her husband's kicks. "This is ridiculous," Cardi says in the video.
"Guys when I tell you this man owns like 3,000 pairs of shoes. 3,200 pairs of shoes. And I think I own like 500 shoes. This man got so many sneakers it's not even funny. Jesus."
READ ALSO: I own more than 3,000 pairs of shoes- Jalang'o
In the background, Offset can be heard explaining that the shoes seen on camera are "only a quarter" of his full collection.
"It's a lifestyle," he says.
Khaligraph Jones flaunts shoe collection
Back home, rapper Khaligraph also showed off his shoe collection made up of over 400 pairs. The rapper whose real name Brian Ouko Omollo showed off his shoes in an episode of his reality show dubbed Khaligraph Kronicles. According to Khaligraph, he often gives several pairs away, often to fans.
"I love shoes. I am always buying shoes now and then, but I'm very specific about the shoes that I purchase. I'm sometimes lacking space to put them. You'll find shoes in the whip (car), you'll find shoes in the studio, you'll find shoes in the booth. Shoes represent Khaligraph," he said.
READ ALSO: Anerlisa Muigai flaunts Sh100, 000 shoes
Noting the integral contribution of his outfits to his image as a rapper, Khaligraph described his style as 'gangster' and is not carried away by constantly-evolving fashion trends. Khaligraph Kronicles, a collaboration with US-based energy drink company Monster features short episodes focused on different aspects of Khaligraph's life and has received positive reviews from fans.