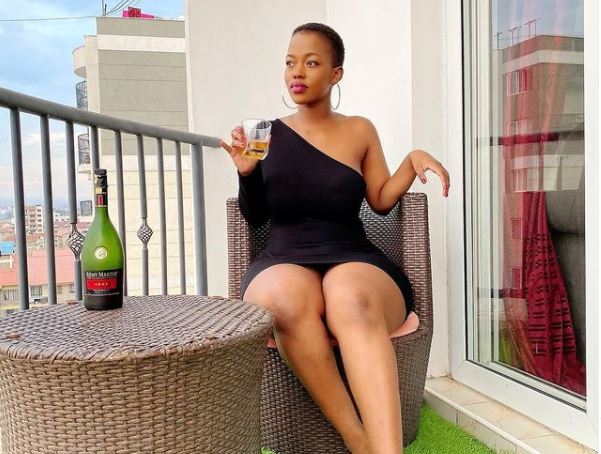 Kenyan socialite cum businesswoman Corazon Kwamboka has been forced to defend herself after a section on online users trolled her over her mummy tummy. The attack came after Corazon's boyfriend, Fitness trainer Frankie Kiarie alias Frankie JustGymIt shared a picture of them at the Movenpick cocktail party with Corazon's tummy looking somewhat visible.
Keyboard warriors were quick to question whether the couple was expecting another child three months after welcoming their first bundle of joy. Taken aback by some of the picture's comments, the Genio Sportswear CEO explained that she was not pregnant and encouraged fellow moms not to feel ashamed of how they looked.
"Imagine three months after having a CS birth, I dress up and I feel good to hang out with my mans just for a woman to come and attack me because of my tummy. Anyway, I look good, hey new moms, embrace your new body, nothing wrong with that pouch. If it disappears good, if it doesn't it's still okay. You have performed a miracle, literally went to war. Don't expect to come home with no scars," she wrote.
Reminiscing over her pregnancy in a previous social media post, Corazon admitted to feeling beautiful throughout the period despite having insecurities before conceiving.
ALSO READ: Corazon Kwamboka leaves tongues wagging with new look
"I was 2 months pregnant here, I have always been insecure about something (different parts of me every other time) today I would be insecure about my acne scarred face, tomorrow about my thighs, next day about my teeth, it has always been something.
"But strangely enough when I got pregnant I wasn't insecure even one day, I loved my body the most. I developed self-love and appreciation and whatever I did I was exuding confidence. PS; that went out the window once I had the baby," she wrote.  
Cyber bullying
Corazon is not new to cyberbullying and has had to encounter attacks from various people for different reasons. A few months ago, the mother of one was caught between Frankie and his baby mama Maureen Waititu's fight with a section of netizens accusing her of being the cause of trouble.
ALSO READ: Corazon claps back at trolls after Maureen Waititu's expose
"Social media is weird! People are so weird. Stop getting yourselves involved in other people's stories. Stories that you know nothing about, does not even concern you, and you have a say in. You believe anything and everything you hear either from this side or that side; stop wasting your mobile bundles.
"I am not special, I have never thought I'm special, no one is, and that is the problem. Some people think they are, but really no one is. An audience that sways every other minute doesn't deserve my side of the story. Don't wait on it. I don't care what you think about me," she responded.
Frankie sided with Corazon and clarified that she was not the reason his relationship with Maureen ended.
"I didn't leave Maureen for Kwamboka. Maureen and I broke up then I met Kwamboka. It wasn't planned that I'm gonna leave this beautiful thing that we had going on, and go try start another beautiful thing that we now have going on," he said.