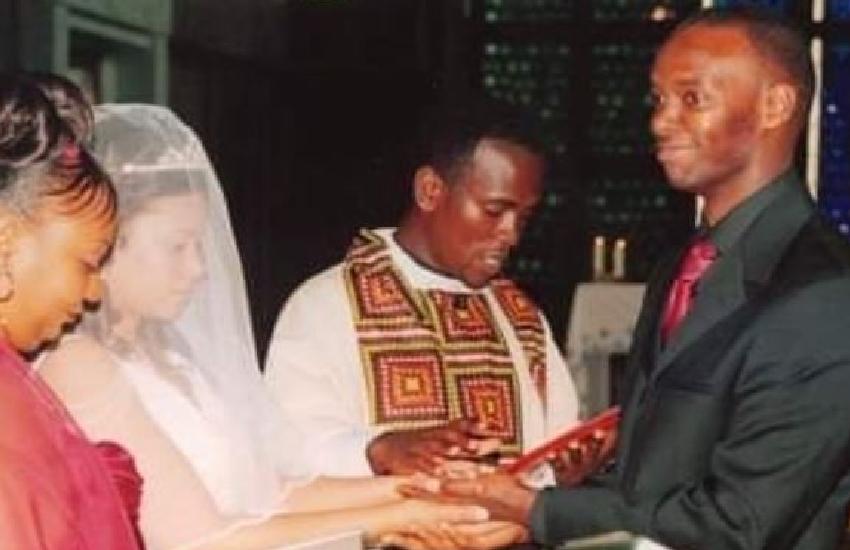 Celebrated media personality Julie Gichuru has on Sunday, November 29, 2020, delighted her over 1 million Instagram followers by sharing a never-seen-before photo of her wedding day.
The award-winning anchor paid tribute to her husband Anthony by sharing the heartwarming throwback picture in celebration of their 17th anniversary.
Read Also: She led with love- Julie Gichuru appreciates teacher
In the photo that seemingly captured the couple exchanging vows at the altar, Anthony - looking dapper in a black suit and red tie - is seen gazing at a distance and spotting a mile-wide smile while Holding Julie's hands, who is, on her part, dazzlingly enchanted and savouring the moment in an ivory veiled gown with a sparkling tiara perched on her head.
Still smitten, Julie captioned the post that has since racked up over 9,000 likes, "17 years ago... Anniversary loading." She then went on to reveal that Anthony was an answered prayer: "Mr G, we did this babe! I am so thankful for the husband and father that you are. I honour you my Simba! *Where we stand our Mwaura is always with us. Dear Lord, as a girl, when I went on my knees to pray for your guidance and protection, you heard me. You are our alpha and omega and we honour you. To God be all the glory."
Opening up about love on Valentine's Day, 2020, the ex-Citizen TV news anchor, offered nuggets of relationship wisdom.
"To my sons. There is no need to feel pressure to deliver what is beyond your means or even simply imprudent or impractical. One rose and your time is more than enough and any woman worth her salt would get it. If you feel pressured to live beyond your means maybe you need to look for the woman who will be your friend, partner and equal. Give love, respect and attention every day, that is the true gift. To my daughters, there is nothing more empowering than deciding to break the mould and take control. Get him a rose. Give him a gift. Take the driver's seat and spoil him if you can. A woman must know that she needs nothing from any external forces other than God. She must know that she can handle her business. She, therefore, needs no man but is able to choose her partner - her homie/lover/friend. That is powerful. Be that woman. Be different," she advised.
Read Also: I had no home to go back to- Julie Gichuru's brush with depression
A message that echoed her tips for a happy marriage, months earlier. "Here are a few words of advice from a couple of OGs, together for over 20 years now. Always be best friends, have fun and laugh together, it is the best medicine. Do not take each other for granted ever; always appreciate each other. Support and grow each other, seek to add value to each other in all ways. Talk through differences but make it clear they will never supersede the respect, regard and love you have for each other. Centre your lives around God, let the lord be the foundation of your home. Wishing you a lifetime of partnership, happiness and fulfilment, Julie and Tony."