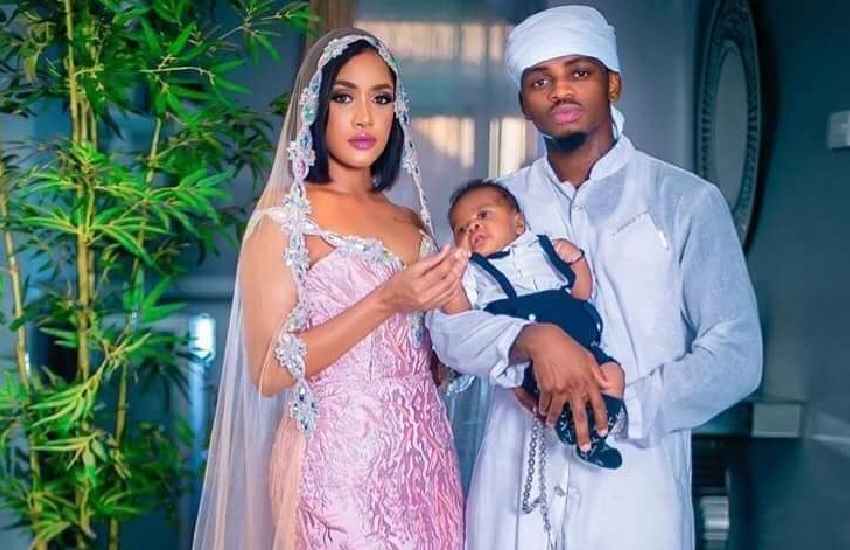 Kenyan singer Tanasha Donna has revealed that she will not be accompanying her son, Naseeb Junior, to Tanzania to see his father, Diamond Platnumz.
Opening up on her reasons during a recent phone interview with Billy and Mbaruk on Radio Maisha's Celebrity Hot Seat segment, the mother of one explained that despite being in good terms with Platnumz, she is not in a position to travel with her son as she has too much work to do.
"Couples break up…. I'm definitely not the first to break up but together we are raising our son and we are in good terms. We are just okay.  About taking our son to see him in Tanzania, no way. The baby can go with his nanny but as for me I will remain here in Kenya because I still have so much work to do," she said.
Read Also: We are not back together, says Zari as she lands in Tanzania with Diamond's two children
Donna's about-turn came a surprise as she had previously accused him of neglecting their son, leaving her to raise him on her own.
"What do you mean supporting financially? I have been doing it all on my own, to be honest. In fact, I will be 100 per cent honest with you, I'm very real and I'm not going to say something that is not the case. With all the respect I have for him and I don't have any bad blood with him. No, he is not supporting (me) and I'm doing it on my own. I don't need his support, to be honest, I'm raising my son just fine. There is nothing that boy lacks in his life. He is fine, that's what matters," she explained.
Break up
The two called it quits sometime in April 2020 after close to a year of dating. Confirming the news on her Instagram account soon after unfollowing the singer and his family, the former NRG Radio presenter pleaded with her followers to be patient.
"I know a lot of your guys wanna know about what went down in my relationship and my personal life. This is not something I'm ready to come out with, in public, just as yet. It's something very personal and everybody has their timing of coming out with their own stories, so I'm not here to talk about what happened in my previous relationship. It's never easy to deal with a breakup but I am focusing on what matters the most, but I'm grateful all is well," she stated.
Read Also: Tanasha Donna gushes over her flourishing friendship with Hamisa
Opening up during an interview with Wasafi Radio, Platnumz, on his part, stressed that they amicably parted ways.  "To be really honest, Tanasha and I broke up because of things that are beyond our control. So we searched our hearts and decided to give each other space. So we spoke and decided to peacefully go our separate ways," he said.