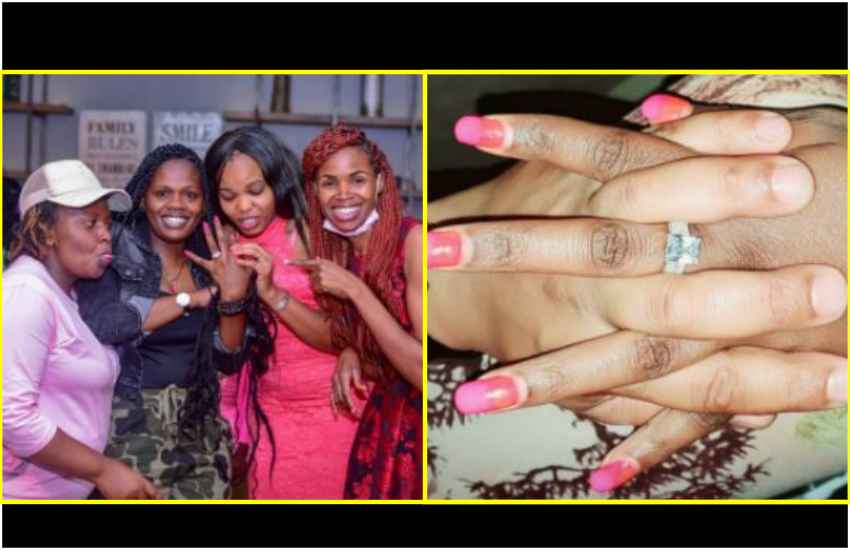 Singer Betty Bayo is officially off the market. The celebrated gospel singer said yes to her fiancé during her birthday celebration held yesterday Thursday, November 26, 2020, at the Trademark hotel.
Sharing the exciting news with her fans on social media, the Eleventh Hour crooner posted a cutout picture of her fiancé on one knee putting the engagement ring on her finger with the caption, "Taken."
Bayo's engagement comes as a surprise as she had previously disclosed she was warming up to another relationship after partying ways with her husband of three years, controversial preacher - Pastor Victor Kanyari.
Speaking during a previous interview with Word Is, Bayo revealed that she had found someone and would introduce him to her fans when the time is right. "I have moved on but when the right time comes, I will speak about it. I will even introduce you to the man and even my wedding... You will all know him," she said.
Read Also: Business as usual - Rebranded Prophet Victor Kanyari now Bishop
She went on to explain that her mystery man was not comfortable being posted on social media, requesting that their relationship remain private away from prying eyes of the public.
"The guy am dating is not comfortable with me posting and talking about him, so that is why I will not be posting or revealing too much about him. He does not want a social media relationship. Right now, our relationship is still on the basics, but when the time comes I will say," she said.
Divorce
The singer and her ex-husband, Kanyari, tied the knot in 2015 but separated after three years. "As a celebrity, your fans expect too much from you, and you may want to make them happy because there is no one who wants their weakness to show in public. I had tried my best to save our marriage, but it got a point where emotions died because of what they are making you go through," she stated.
Even though things didn't work out between them, she acknowledges the fact that Kanyari is a good father to their two children. "Happy father's day to the father of my kids…you may not be a good husband but you're a good dad," she posted on Father's Day, 2019. 
Read Also:Betty Bayo reveals the mistake she made with Pastor Kanyari
Not only is he a good father, but also an understanding individual. In the same post, Bayo thanked Kanyari for giving her the blessing to move on with someone else after their divorce.
"Thanks for accepting my decision to move on it has been four years. Unlike many men you have never stalked me or made my life miserable just because we parted ways. You're the least of my worries, every time you watch couples killing each other on TV coz of separation you do call and condemn the action," she added.
Who is the king of Bongo Flava?