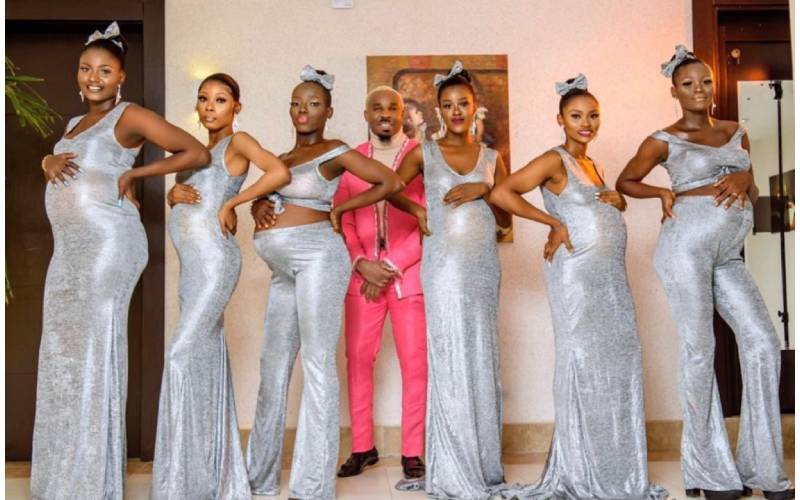 Nigerian socialite Pretty Mike was the town's talk over the weekend after showing up with six pregnant women to Nollywood actor Williams Uchemba's wedding. In a pink suit, the club owner made a grand entrance to the wedding, accompanied by the six heavily pregnant women he claimed were his baby mamas.
The six pregnant women looked all glammed up in the photos that went viral on social media, where four put on matching long silver dresses, while the other two wore a two-piece silver outfit. Pretty Mike also shared a video where he is seen greeting his baby mamas one by one, as he held their tummies and hands during an entrance.
"LAGOS ZADDY LIVE #williamsgottheoscar PM and his 6 Baby Mothers to be ????.... no film trick, we are just living our best life #ABetterTime #HappyHome #Familyiseverything #babybum," Pretty Mike captioned the photos and the video.
ALSO READ: Bride arrives at her wedding in a coffin, social media reacts
Pretty Mike has been open about his relationships on social media and the women he dates. In February this year, the socialite said a beautiful woman is not meant for just one man.
"I don't know who needs to hear this but... A beautiful lady isn't meant for only one man, so to keep one to yourself in this Lagos, You must be capable of doing what eleven men can do. let's be guided," said Pretty Mike.
In September 2019, Pretty Mike shocked many after saying that one of his dreams was to marry five women. He shared a photo of five women, all in wedding dresses, two whom he claimed were his exes, while the other three, his current girlfriends.
"We all have dreams and we all have fantasies ... I have lived some of my fantasies in my various entrances.... but one of my dreams have always been to marry 5 special women in my life 2 of my ex's and 3 of my current girlfriends. Dey are all special to me somehow. The question is, what do men really want? I am fulfilled knowing I had the chance to express myself in this illusion," he said.