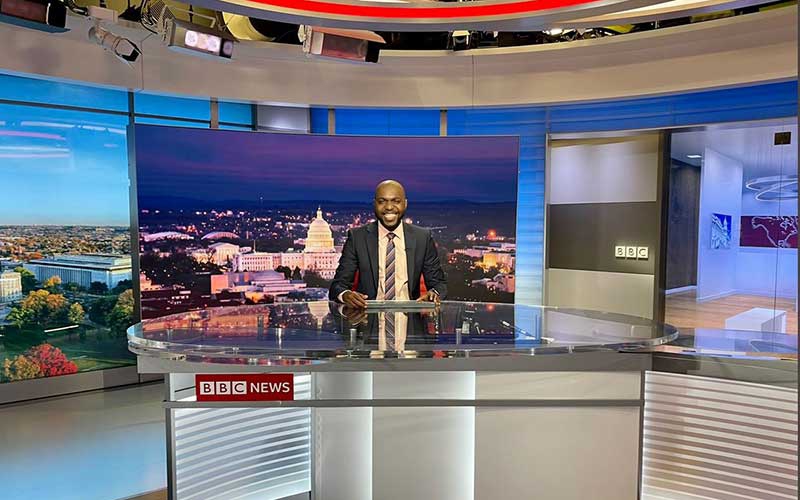 Kenyan journalist Larry Madowo is set for greatness given his forays since joining the British Broadcasting Corporation (BBC). Months after joining the US office as a correspondent, Madowo has anchored the news on BBC News World America for the first time. The former NTV news anchor who started his TV career at KTN on November 21, 2020, shared news of the feat via social media, with thousands of Kenyans hailing his achievement. Larry had a word of encouragement for dreamers facing naysayers writing: "For everyone from a small village like me who thought some dreams are too big for you, here is your answer. Siaya to the world!
"I'm anchoring BBC World News America for the first time today. It's a busy show for a busy world."
READ ALSO: I can't compete with my students anymore- Larry Madowo announces leaving 'The Trend'
Netizens lauded Larry:
This is a big one for most of us out here. That the impossible is possible. I believe we are our own power! — Your Mind Coach???????? (@H_Mugambi_) November 21, 2020
Well done Larry...keep going. A true definition of dreams are valid. — Don frank (@Don_frank11) November 21, 2020
Well done, Sir!! — Moses Rudende (@rudende) November 21, 2020
Proud of you bro????????

— Mark Masai (@MarkMasai) November 21, 2020
Keep breaking those barriers brother. Quite inspirational stuff there.... — Moses Odhiambo (@OdhiamboM) November 21, 2020
This is a story of not what you receive or how hard you have worked, it is the values you have created for yourself to achieve this.
Integrity, patience and determination. An excellent lesson to many young people especially in the media. Kudos @LarryMadowo — Noah Nasiali-Kadima (@Nasiali_N) November 21, 2020
Nasemanga ukipata opportunity ya kutoka hii nchi toka tu. Ona sasa @LarryMadowo anasoma news huko BBC. Angekuwa anasumbuana na Atwoli apa akiitwa tu mjinga???????? — Mibei Mibei (@realmibei) November 21, 2020
Humble beginnings
The journalist is the epitome of grass to grace. Orphaned at the young age of 14, Larry and his younger sister were left under their aunt's care. Previously speaking to CNN on his tough childhood, he said "I grew up with little privilege, my earliest memories are not having the things other kids had. I would go to school and hear the other kids talk about what their dads and their moms did and I didn't have that."
READ ALSO: Why Larry Madowo took hiatus from 'dream' BBC job
Initially, he harboured dreams of becoming a priest but on completing high school, his priorities shifted. After graduating from Daystar University, he joined KTN as an intern on the news desk. Larry later worked for the CNBC in South Africa before returning to Kenya where he joined NTV. He exited after successfully running The Trend show and joined BBC Africa as the Business Editor. Larry then took a break from his job after being named as of the beneficiaries of the 44th Knight-Bagehot Fellowship in Business and Economics at the Columbia Journalism School. He then shifted to the U.S office as a correspondent.