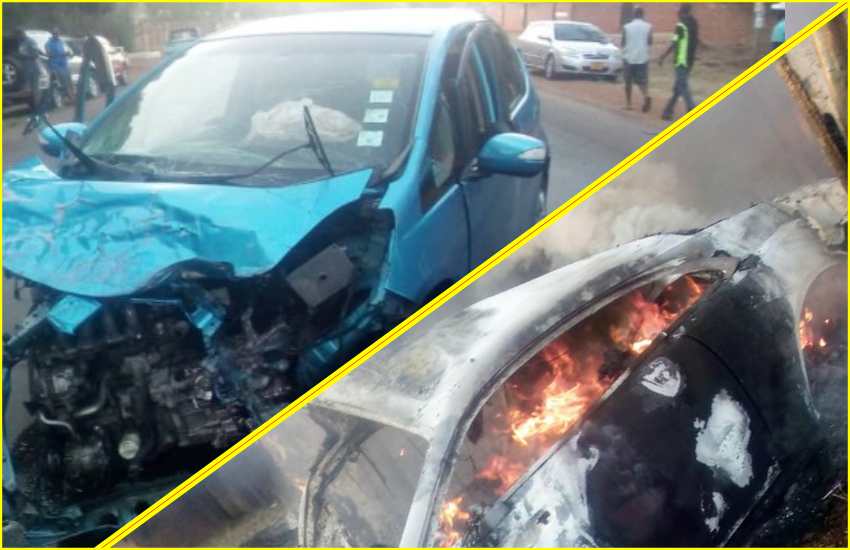 A Zimbabwean man who was behind the wheel of a Honda Fit which Ginimbi's 2.5-ton Rolls Royce Wraith ploughed into on a curve along Borrowdale Road, Harare on November 8, 2020, says he is 'lucky to be alive.'
Speaking to the Herald, Lucky Chikwanda said he was northbound from Hatcliffe, an informal settlement located on the road to Domboshava, where the flamboyant businessman and socialite – real name Genius Kadungure - owned a multi-million mansion, when the accident occurred.
Read Also: PHOTOS - Ginimbi's flashy lifestyle featuring Sh150 million car collection
According to the driver, who is still in excruciating pain following the fiery impact in which Ginimbi and three friends were killed, was speeding on the wrong side of the road. The Wraith, he added, rammed onto his Japanese supermini as the about town personality unsuccessfully tried to swerve back to his lane.
"I was coming from Hatcliffe and going to Mount Pleasant with my friend when the accident occurred. I remember just seeing this car coming towards us. The car was flying. The car encroached into my lane and the next thing I heard a loud bang, it was so sudden and unavoidable. Before he switched back to his lane, he hit my car," said Chikwanda.
Adding: "The next thing I found myself lying on the ground. Someone poured some water on me and I regained consciousness. It was terrible. I don't even know how I got out of the car. I am the one who was driving. I heard my friend managed to get out of the car and also collapsed, but he managed to shout for help and some people came and assisted us. But I do not know what happened after the collision."
He went on to note that it is nothing short of a miracle that he is alive. "We both have been discharged from the hospital, but we are still in pain. My right side still hurts. I thank God for saving our lives. Up to now, I do not even know how I came out of the car. It was a miracle from God."
Read Also: Did Ginimbi source for a casket? All-white wake set for Friday
Ginimbi is to be laid to rest at his mansion on Saturday, November 14.
Related Topics