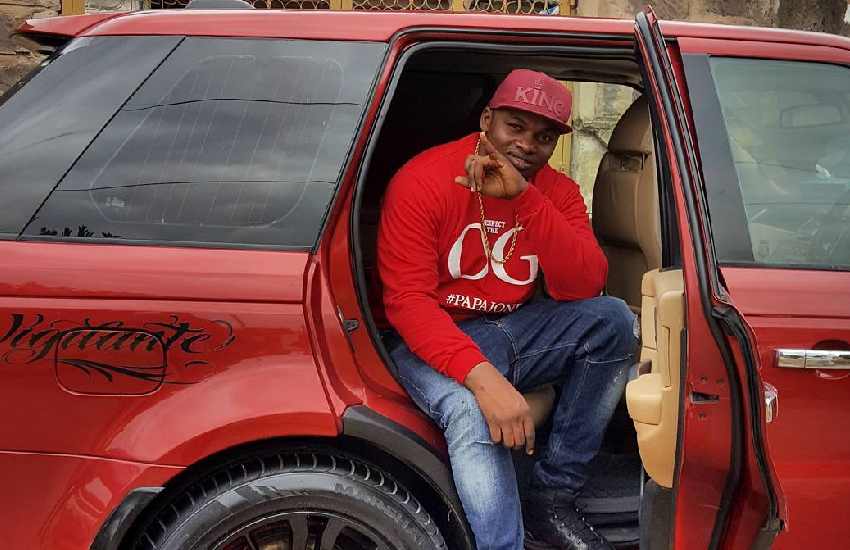 Rapper Khaligraph Jones is fuming after his sleek Range Rover was scratched, causing damage to the paintwork, in what he believes to be an act of sabotage by unknown people.  
In a short video shared via his Insta-Stories, the father of two lashed out at the perpetrators, questioning their motive as he showcased the damage - a visible scratch on the driver's door side. "Manze haters, haters, why would you do this to the Ranger my n****h, who the f*ck did this... Mahater mnanigwaria gari," says Jones in the video.
Read Also: 'Sorry! You can't rent here': Why Khaligraph's house-hunting saga is a tip of the iceberg
Just two weeks ago, the rapper from Kayole excited a section of netizens after he insinuated a potential comeback to the industry for veteran rapper Prezzo, who has been on a hiatus. This was after the award-winning hitmaker took to his Instagram account and shared a video of Prezzo rapping to his Yes Bana song.  
Their respective fans quickly picked it up and started urging Prezzo to come back to the industry as a section of them reminisced on the good old days when the Mafans star churned hits."Game recognizes game, now it's time to bring the President back on some boss vibes. Meanwhile Kwenda still banging @prezzo254," he captioned the video.
Opening up about patience in the industry a while ago, the Yego hitmaker said everyone must trust the process. In his first post BET Hip Hop nomination interview, Jones revealed that sometimes it is not always about winning, but rather finding the motivation to keep going. "When I was first nominated for Sound City, I did not win. I just went for the event and that was enough. You don't always have to be victorious, but rather focus on pushing till you get there," he said.
Read Also:Khaligraph Jones gifts manager new car on birthday
According to the rapper, the nod was a win for all of Kenyans, an acknowledgement that Kenyan music is being recognized globally.  "When one of us receives such a big recognition it is a good thing for all us. We are putting Africa on the map and honestly, it is a win for all of us not just Khaligraph Jones. It is good for everyone to know how this industry works," he added.
"This is why I said getting nominated was good enough for now. Slowly, our music is opening doors in high places. Being placed in such spaces where we are mentioned around other big music players who control the international music economy should tell you something about where we are headed. This is respect."