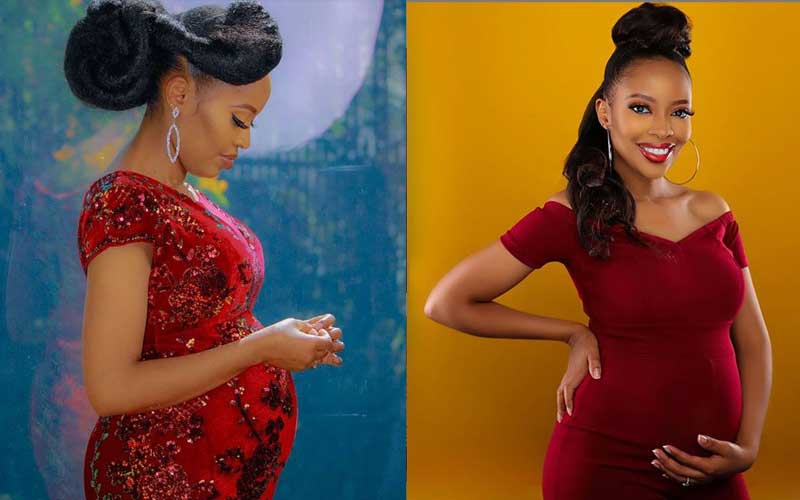 On November 9, 2020, gospel singer Kambua celebrated her birthday with a heartfelt message on social media, thanking God for His blessings in her life and encouraging those trusting in Him to remain hopeful.  In the lengthy post shared on her Instagram, Kambua recalled celebrating her birthday in 2019 with her newborn in her arms unaware of the blessing that awaited her in 2020.
"Last year I celebrated my birthday with a newborn baby in my arms. This year I celebrated it with another kicking my ribs and sitting on my bladder. Look, if that isn't God, I don't know what is. God is still in the business of working miracles- opening wombs, mending hearts, parting waters. I pray that if for nothing else, my life will reawaken hope in yours.
READ ALSO: My ex-boyfriend publicly humiliated me - Gospel singer Kambua
"I pray that you will understand that the journey is not about always being strong- it includes moments of doubt, and hopelessness, all wrapped in a warm blanket of faith. Faith, the substance of things hoped for...So get up, exhale, and know that God's got you. He desires to bless you. His ways are perfect. And so is His timing. I love you. I'm praying for you," wrote Kambua.
Kambua's testimony
After close to six years in marriage without a child, Kambua and her husband Pastor Jackson Mathu were on 10th August 2019 blessed with their first child, baby Nathaniel Muhoro Mathu. Before conceiving, Kambua admitted to being trolled for not having children yet she had been married for years. 
"Today I saw a comment and deleted it because this guy said 'When are you going to get pregnant? you're getting old'. I remember thinking, the reason why it angers me is that people don't even know what your journey is like. They don't know what you're struggling with. They don't know if you even want to have children. They don't know if you can have children and there are so many people especially today who are struggling with infertility. It so unfortunate that we become such a culture of being so intrusive and putting people down," she said.
READ ALSO: Pastor Jackson Mathu's touching message to wife Kambua
When news of Kambua's first pregnancy broke, thousands of netizens camped on the singer's Instagram comment section praising God for His miracle. Kambua described the journey as messy and complicated but was grateful to God for giving her the strength to go through it.
The couple is currently expecting their second child and just like the first pregnancy announcement, netizens went all out to congratulate the singer and her husband for the blessing of a child.
"God of Sarah...God of Hannah...God of Kambua! Just when I thought you had done too much! You did it again," exclaimed Kambua.