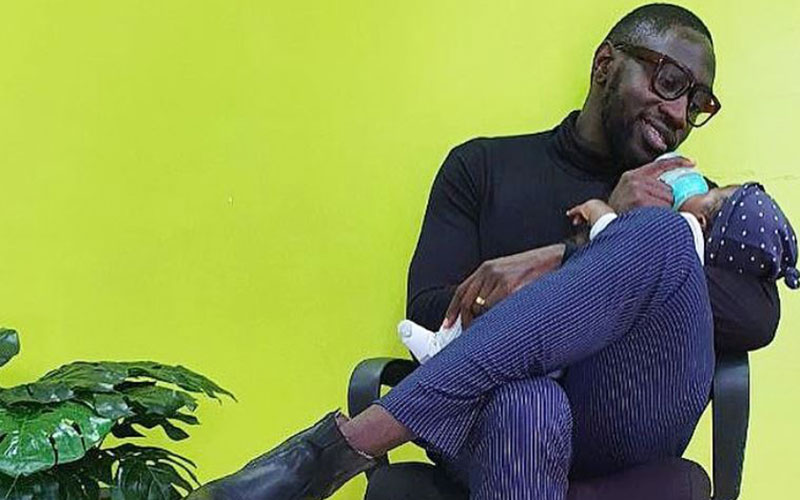 Sauti Sol band member, Polycarp Otieno alias Fancy Fingers has taken a two-week paternity leave from the group to spend time with his newborn son.  Sharing the news with his fans on social media, the talented guitarist expressed his desire to create a connection with his child in the early stages of development.  Although two weeks seems too short for Polycarp, the new dad expressed his gratitude for the time he has to bond with his child.
READ ALSO: Seven adorable photos of soon to be parents, Polycarp and Landy Mandy
"Currently away for Father Studies with Baby O. But for real though paternity leave should be for like 6 months. How we are okay with the law granting only 2 weeks, really beats me. A strong and healthy bond with your baby is cultivated at this time. Loving this time with my son. Absolutely heavenly," he wrote.
For the love of music, Polycarp found a way of incorporating music into their morning routine by rocking his son like a guitar as they listen to different songs. Since the arrival of Baby O, Polycarp and his wife Lady Mandy have done their best to keep their child away from social media, so much so that they announced his arrival a few weeks after he was born.  The highly secretive couple is yet to reveal their baby's face and full names to their curious fans.
Pregnancy journey
Opening up about her pregnancy a few weeks ago, Mandy appreciated her fans and family for their support throughout the journey.
READ ALSO: Sauti Sol's Polycarp Otieno shares first photos of his private wedding
"Friends, I truly enjoyed my pregnancy yo! I felt the most confident, beautiful, at peace and probably most positive I have ever been in all my adult life. Even in the middle of a whole pandemic. I am forever grateful for this, as I know sometimes it cannot be said for many women. For that, I documented so much... like what am I going to do with all the preggers pictures? Y'all will have to endure me sharing them with you," said Mandy.
The couple recently shared an adorable post-pregnancy picture with Polycarp praising his son for being a good boy and allowing them time to go through postpartum gracefully.
"Postpartum-ing best way we know how. Sometimes we have to tell Baby O (now the King of the House) it's mummy and daddy time. He is quite understanding, to say the least. In fact, he encourages it. Such a beautiful soul," he wrote.