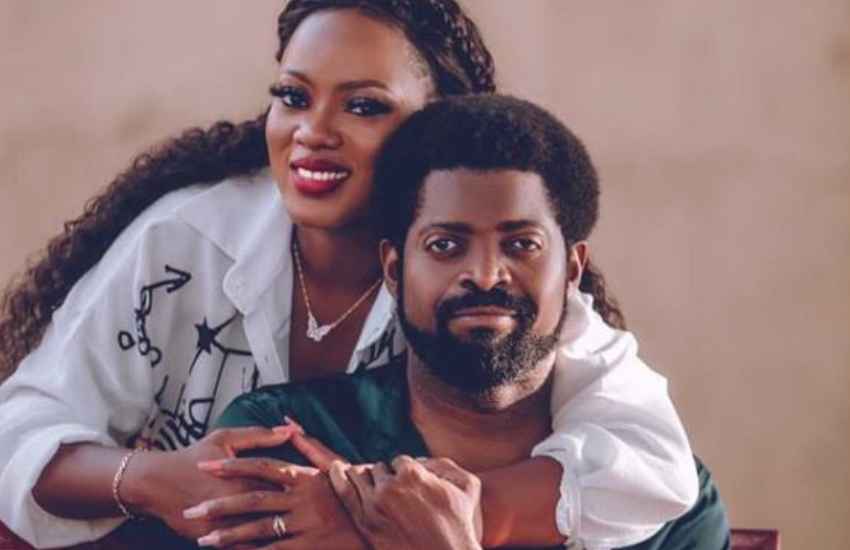 Award-winning Nigerian comedian and actor Bright Okpocha alias Basketmouth celebrated his 10th anniversary with his better half, Elsie Uzoma, on Saturday, November 8, 2020. 
The creative billed as the greatest African comic of his generation, while sharing an adorable throwback snap from when they were dating, penned down a heartfelt note for his spouse where he said: "5 years before she said, "I Do". That was 15 years ago...Love you forever."
Read Also: The last punchline between Eric Omondi and Basketmouth
Toasting to a decade of wedded bliss, Elsie - on her part – disclosed how she gave him a wrong number on their first encounter at the University Of Lagos (UNILAG) where she was pursuing her undergraduate and celebrated that he never lifted his foot off the pedal in pursuit of her love and hand in marriage.
"My happy place, my best friend, celebrating a milestone in marriage, 10years!!!! Amazing!!!! I'm glad you came to my hostel in Unilag 15yrs ago, and I'm so glad you didn't give up on me even after I gave you a wrong number. I want to grow so old and happy with you baby. I want to laugh and cry happily with you. And I want to celebrate forevermore with you. Happy 10th-anniversary sugar... My heart is beautiful because I have you in it," shared the mother of two.
Adding: "Lord Jesus, I also want to thank you on my hubby's behalf for giving him a beautiful, smart, intelligent, exceptional and a wonderfully sweet wife. Thank you for answering his prayers. He will forever be grateful. 10yrs! Baby!"
Candid about her relationship with the star in her posts, the Grill House of Bistro CEO opened up about their love life in 2018, revealing details about their beautiful love story, challenges and triumphs.
"My goodness!!! It's 8 years already…..how did time fly? It's been a bittersweet ride all the same, but overall a fantastic one. We have cried, laughed, cried and laughed again… fought well, of course, and settled (so glad u know how to beg me). You have taught me, spoilt me with love, made my life more beautiful …never failed me every time I needed you… and our gossips! Omg! Always lit!" narrated the entrepreneur.
"I love how you always tell me everything about your day, I love that you are my best friend. Your flaws and imperfections are overly annoying... but what can a girl do? Thank you for putting up with the small stress I give u as well? Oh, how I love you. Bright Okpocha you are all Elsie needs, now and forever! Cheers to us! I love you sugar and I'm so glad you are mine!"
Read Also: Basket Mouth wedding anniversary at animal orphanage
The couple's 4-part nuptials was held in 2010 and boasted former Super Eagles ace Jay-Jay Okocha and actress Genevieve Nnaji, among other A-list celebrities, in attendance.