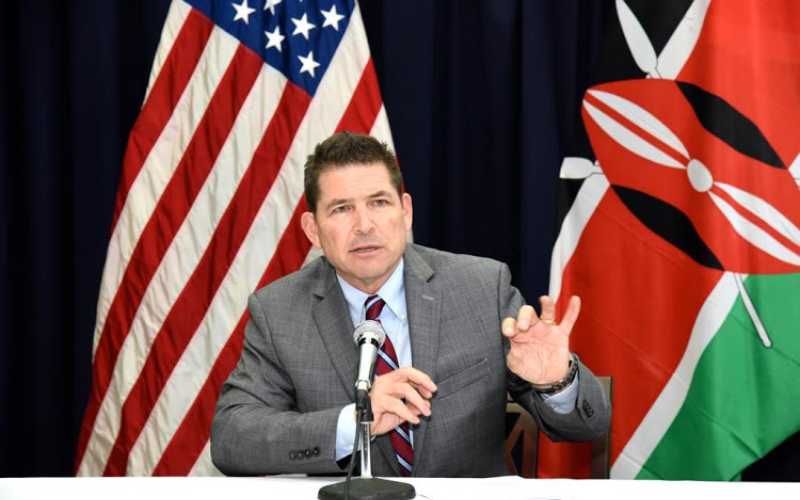 As the world focuses on the hotly contested US Presidential election race between Donald Trump and Joe Biden, Kenya's Tharaka Nithi county has been mentioned by some to signify strongholds that can swing the vote either way. Unknown to many, US Ambassador to Kenya Kyle McCarter lived in Tharaka Nithi with his family in the mid-80s.  His father Calvin McCarter is well respected by residents of Mukothima for setting up a health centre, school and children's home.
McCarter worked in the area from 1984 to 1989 and left a health centre that was later named 'Kwa Makata' - a corruption of his name - which has been of great help to residents of Tharaka North. According to John Kiongo, a resident, locals interacted closely with the family, which at times shared a compound with the less fortunate in the community.
Kiongo said he knew Kyle when he was a boy as he always accompanied his father during his trips to Kenya. After age took a toll on the senior McCarter, Kyle took charge of the projects and expanded the charity to Thanatu village. The reason the community refers to the envoy as their son is the construction of a bridge on Thanantu River, connecting Mukothima and Nkondi wards.
Asked about the ongoing US election, McCarter called for patience saying his country has to get it right. "The process will take some time…We should be willing to wait to make sure that the process was fair…We have to get it right. We cannot just declare someone the winner.
Also read: Kanye West admits defeat in US elections
"The election boards in the states do…Every legal vote should be counted…The illegal votes should be thrown out. We are not perfect. We are experiencing democracy just like any other country. There are basic rules to an election…Waiting for the results is a tough experience for me, being a political appointee," he remarked.
Also read: Best memes as Kenyans follow US elections
McCarter further stated that he hopes there will not be any post-election violence, asking citizens not to riot. Asked about the BBI, McCarter said he supports the document becoming the voice of the people, not politicians. "This is not my decision or the USA's decision We support Kenya having the conversation… We support the BBI becoming the voice of the Kenyan people, not just the voice of politicians. Politicians should not hijack the conversation," he stated.