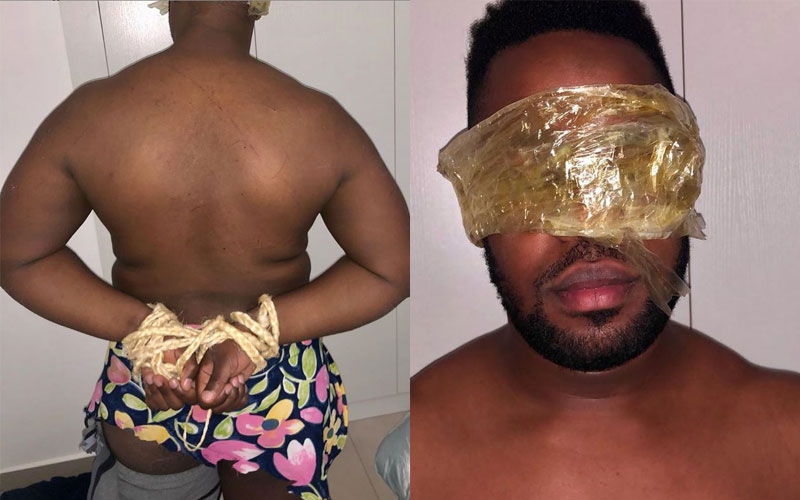 After going missing on November 2 while attending the hearing of court case where he's accused of sharing confidential travel documents of YouTuber Natalie Wanjiru Githinji alias Natalie Tewa, blogger Edgar Obare was reported to have gone missing. Fellow blogger Xtian Dela was the first to raise alarm, saying that Obare had been whisked away by unknown persons. On November 3, Obare resurfaced, posting "I am alive" on his Instagram stories. The blogger then proceeded to accuse the authorities of kidnapping him before assaulting and stripping him naked.
READ ALSO: Edgar Obare released on bail
Narrating what had transpired the previous day, Obare claimed he was kidnapped by three men who bundled him into a waiting car before blindfolding and handcuffing him. According to the blogger, the men cross-examined him, accusing him of extorting money from celebrities through his 'exposes' which have laid-bare extramarital affairs by married celebrities. When he did not budge, Obare claims the men kicked him and punched him in the abdomen before stripping him naked.
"They decided to strip me naked in the car by cutting off all my clothes to my boxers. I was completely naked in that car and I noticed one of the guys at the front taking pictures of my penis. I was mortified and humiliated, these people were complete monsters and they disgust me," he wrote.
Obare said the men then threw him into thorny bushes before good Samaritans rescued him before helping him get a cab from Nyeri, where they had dumped him. He then shared photos of his torn clothes while showing how his hands were allegedly bound during the ordeal with the caption, "when I got home, I took pictures of my injuries, and this is how I was tied up. They confiscated everything I had on me, let the authorities stop denying they did this to me and protecting each other. The state kidnapped me and threw me in the bush. I demand justice #endpolicebrutality."
READ ALSO: Edgar Obare to be charged for linking Governor Joho to media personality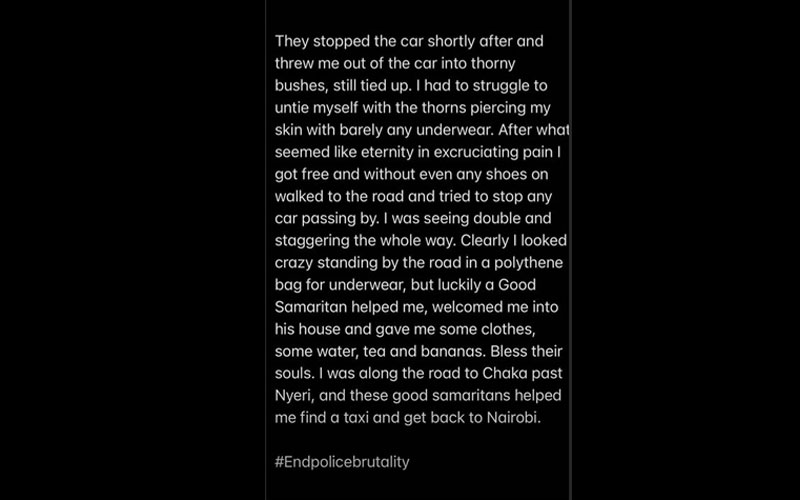 Reactions
Many Kenyans were taken aback by Obare's ordeal:
@bienaimesol This is wrong.
@morextiandela Breaks my heart that in such a day and age the police in Kenya are still being used like lapdogs to intimidate people! This is utterly disgusting and stinks to the high heavens! Justice is what we demand!. If we let this slide soon it will be like Nigeria with the #EndSARS campaign.
@rachelmbuki I have no words. How dare they? I'm so sorry you went through this Edgar. I'm hurting and outraged for you. I'm so glad you made it back alive. I'm ashamed of my country today.
@annitahraey Kenya is really messed up. Am praying for you and your family Edgar...this scary.
@nickmutuma Pole sana @edgarobare.
'Tea' trouble
'Serving tea', as Obare's numerous exposes are popularly referred to as landed him in trouble after he linked the aforementioned Youtuber to a Dubai trip by Mombasa Governor Ali Hassan Joho. Suna East MP Junet Mohammed and Governor Joho travelled to Dubai to check on former PM Raila Odinga who was in the hospital after undergoing an operation. The blogger claimed that the Youtuber was part of the entourage but she denied the allegations, instead accusing him of unlawful disclosure of her personal data.
READ ALSO: Threats? Jalang'o in fiery exchange with vlogger Edgar Obare
Before Natalie, Obare accused Jalang'o of threatening him after he laid-bare the (in)famous 'Boys' Club'. In another incident, Comedian Terence Creative popularly known as 'Kamami' admitted to cheating on his wife Milly Chebby after his former side dish Anita Soina let the cat out of the bag in an interview with Obare. Most recently, gospel music power couple Dj Mo and Size 8's marriage was put to the test after a woman confessed to Obare she'd been seing the System Unit head honcho.
Related Topics