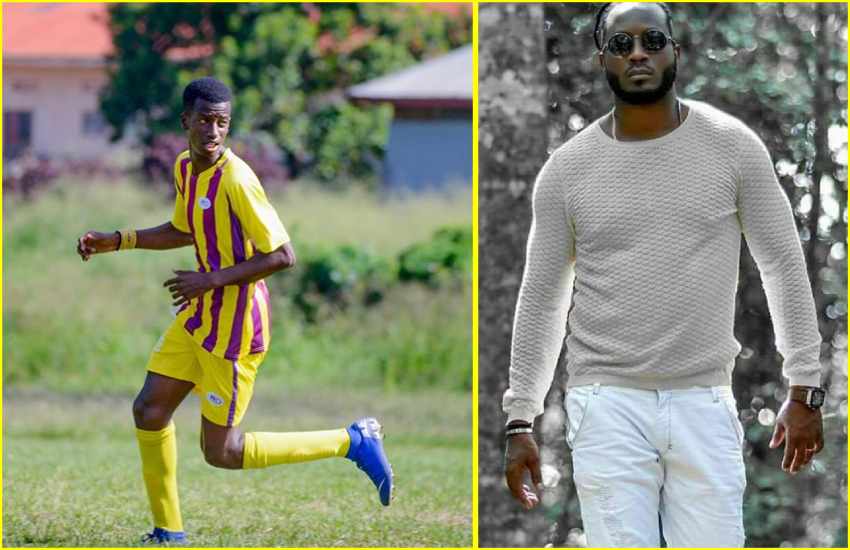 Alpha Thierry Ssali, the secondborn child to ragga star Bebe Cool, has received a call-up to Uganda's U-20 side, the Hippos. Thiery was selected by Hippos head coach Morley Byekwaso as part of a 46-man provisional team in preparation for the zonal U-20 AFCON qualifiers in Tanzania.
The 17-year-old forward joins fellow Proline star Ivan Bogere and Jamal Masiko from Swedish side Malmo and could feature for the Hippos in the competition set to be staged from November 22 to December 6, 2020, if selected. 
Read Also:My rich father left me and my mother to suffer in poverty-Bebe Cool
According to Football 256, the 46 prospects who undoubtedly relish representing the 'Pear of Africa' at the national level, reported to camp on Saturday, October 31 and are expected to hold a residential base at the Federation of Uganda Football Associations' Technical Centre in Jinja up to November 19.
According to Proline Academy owner and coach Mujib Kasule, the left-footed player and Proline Academy U-17 captain is tipped as Uganda's' next biggest football star and has shown promise courtesy of his brilliant exploits at the talent centre. "As Proline, we are so much delighted about the development and progress of Alpha. He is such an impressive, good player," said Kasule.
Sentiments shared by the football-loving singer who aptly named his son after Arsenal legend Thiery Henry. "I keep reviewing Alpha Thierry Ssalis' progress when it comes to his relationship with the ball in comparison to my expectations at this point. I appreciate the decision I made as a father and the effort Proline Soccer Academy has put in so far despite the conditions under which our footballers persevere in Uganda and Africa as a whole," the singer told New Vision.
Read Also:Bebe Cool's protégé, singer Shortkut, dies after 40 days in hospital
For the 2016 Proline Soccer Academy Player of the Year Award winner, the highlight of his footballing career is meeting Isco.
"I was happy to train with Arsenal soccer academy although I would be happier if I had visited Manchester United football academy, the environment and facilities there are first class and I don't regret the time I spent there. I felt more encouraged and motivated to go on and on. Meeting Isco is still a memorable moment. His words and advice keep me moving and whenever I am down and I recall, I feel recharged," said the teen.
Who are your 2020 musical influences?
If you meet Nyashinski - what first catches your attention?
What matters to you in choice of Gengetone song?
What would your friends describe your music taste as?
What's your biggest frustration in Kenya's music scene'?
Many thanks!
We really appreciate your help with our survey... 
Quiz Maker - powered by Riddle