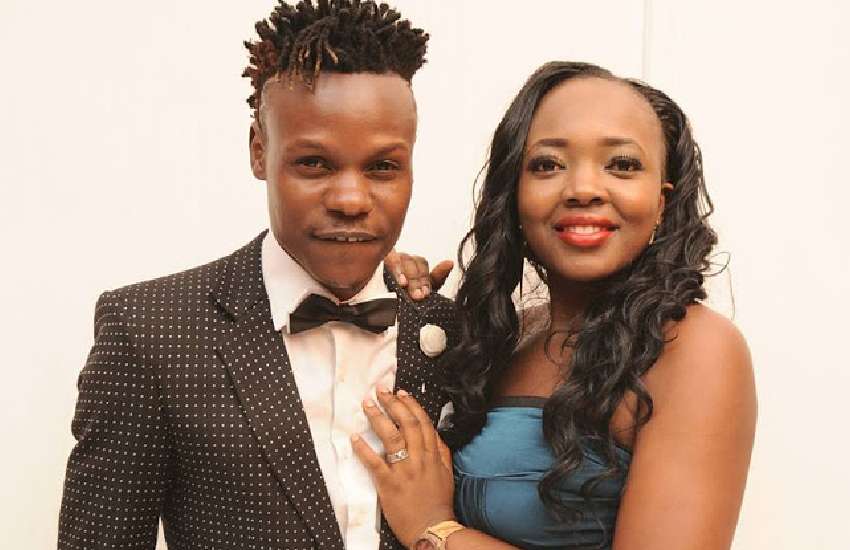 Award-winning rapper Eko Dydda is immensely grateful to his wife Sylvia Ayugi for supporting his dream and making great sacrifices to ensure his vision for music came to life. 
Taking to social media to appreciate his wife for the support, the Vidole hitmaker revealed that Sylvia paid for his transport whenever he needed to commute for gigs. "Honorable ladies and ghettomen I don't know so much but what I know is that God is faithful and He loves you. Do you want to know who used to pay my bus fare when I was an upcoming artist? She goes by the name @gazilllionaire_galia I love you toto," wrote Dydda.
Read Also: VIDEO - Eko Dydda released from quarantine after wife's plea
A heartwarming post that comes months after she secured his freedom after he was arrested and wrongfully quarantined at the Kenya Medical Training College (KMTC) after bribery attempt went wrong, according to Sylvia. Although she was unwell at the time, Sylvia said she never gave up and after being taken back and forth by the police.
"I think I asked too many questions as l pleaded his case because they eventually told me to get out of the police station and only return when I had the money. I went outside for a bit and then went back in to ask if I could pay via M-Pesa. The officer replied telling me to get out and only come back with cash." He was released an hour later.
Grateful for his wife's selfless act, the Niko na Reason star promised to equally have her back whenever she needed him. "When you know you have a queen who got your back in all combats. I got your back too my queen," he wrote. "Thanks to the almighty God I am back home now and spending time with my family, thanks to the Lawyers Hub and the support of most of you online for highlighting our plight. Thank y'all. Mad love and respect for you guys."
The couple's marriage has not always been as smooth. About a year ago, Sylvia accused the father of two of stepping out their marriage with her best friend.  Revealing the news on her Instagram, Sylvia called out both Dydda and her friend for betraying her.
READ ALSO: Scandals galore - New twist in Eko Dydda's marriage to Cynthia
"Breaking someone's marriage is not Godly, I invited you as a friend. It's not a battle,@ekodydda you don't have to hide it any more your 'DOPE' is free to love you, sometimes it's healthy to walk away, and today is that day. I will not hide it for fame, money, I will stand with the truth and will never ever lie to people. I did not know they were already in a relationship. I learnt later after he started sleeping out and they both would not receive my calls," she wrote. They have since sorted out their differences and are parenting their two adorable children together.