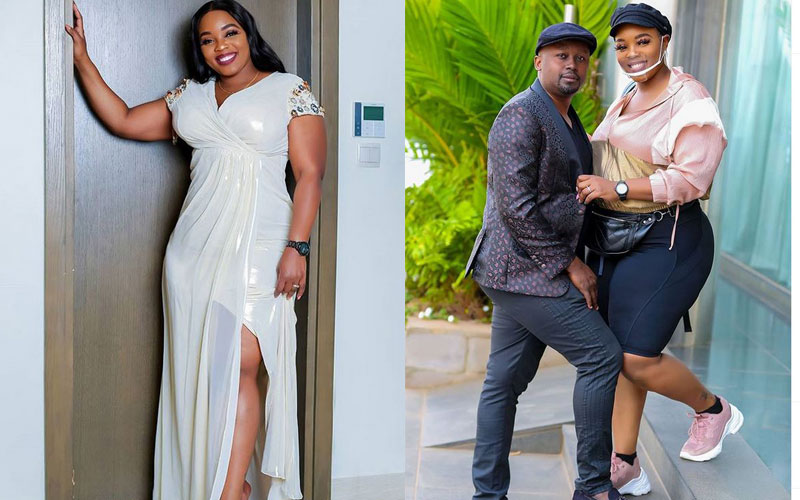 Popular Kenyan socialite cum actress Risper Faith has opened up on her frustrations with her current body shape and plans to go under the knife to get everything under control. Sharing her troubles with her fans on YouTube, the former Nairobi Diaries actress revealed that she has been struggling with weight gain and wants to look for a permanent solution before it gets worse.
READ ALSO: Risper Faith weds rich boyfriend
"Before you get married, before you have children, you look young, you look beautiful. All my life I was used to that small body, small waistline but immediately you give birth everything changes and to me, it seems like I'm not adjusting and I'm not accepting the fact that everything changed and so did my body, that is why it's looking the way it is. After giving birth I weighed myself and I was 100kgs over 22months after I had given birth I'm weighing around 116kgs and my body just keeps growing and growing, I don't feel beautiful anymore, I don't feel myself anymore. I have been so down, I'm so moody lately," she said.
Liposuction
After extensive research, Risper said she settled on the liposuction procedure to help her get back in shape as it is quicker and more reliable.
"I've been thinking of doing liposuction. Yes, I want to go for surgery so that they can remove all this excess fat and let me be. I also read that they provide you with a diet plan after surgery so that you start reducing weight because my problem area is my stomach, but what about my thighs and the rest of my body? I noticed I have cellulite as well so I'll start going to the gym, this time not to work out but just to maintain my figure."
READ ALSO: I was first attracted to my fiancé's money- Risper Faith
The mother of one further explained that her marriage has been affected by her unhappiness and she fears her husband will stop looking at her the same way.
"I don't know how I'm going to tell my husband because this is a decision we both need to make and it involves a lot of things, there's even a baby there, so I just hope and pray he will accept and support my decision because, at the end of the day, it is about me. I'm a girl, I want to feel sexy, I want to feel beautiful and I want to feel like myself.
"It's affecting my marriage because sometimes like I said I don't feel like being intimate with my husband because I don't feel beautiful. We got married in 2018 and we are in 2020, it's been two years. This is a very young marriage and if I want it to last forever I need to fix these things for me to be happy and concentrate on my marriage because if I don't fix it, it will bring us problems later and that's what I don't want. I just pray he is going to accept and support my decision because at this point I'm so desperate," she said, wiping away her tears.