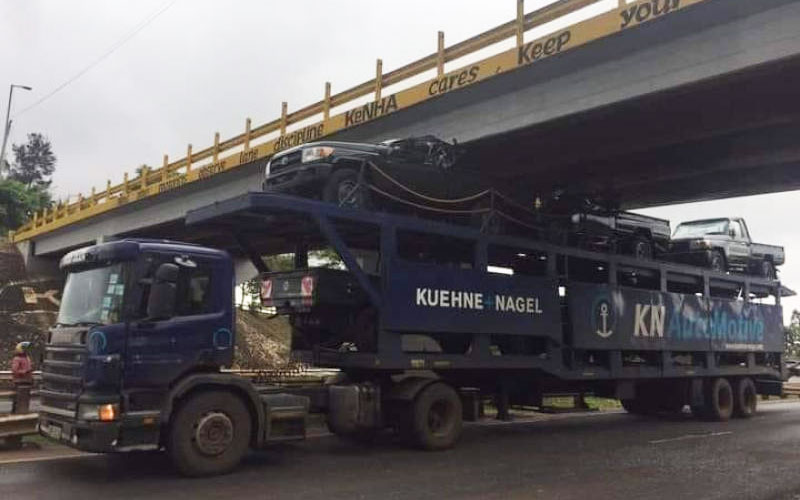 Three motor vehicles were damaged after a trailer's driver transporting them to a dealer in Nyeri under-estimated the height of a bridge in Murang'a. The driver made what police described as a reckless assumption at the Kandara Flyover bridge along Nairobi-Nyeri highway, leading to the damage. Murang'a South Deputy Police Commander Antony Keter said the truck from Nairobi had six new land cruisers onboard during the morning incident. Mr Keter said the driver ignored a warning sign near the bridge, directing motorists on which lane to use, depending on the height of their loads.
READ ALSO: Kalenjin singer Rhino Kaboom dies in accident
"The driver used lane marked 4.47 metres instead of that marked 5.45 metres, which could have accommodated his load. The bridge is on an inclined part of the road, with clear indications to drivers on which lane to use," said Keter.
READ ALSO: Rapper Zzero Sufuri out of danger after nasty motorcycle accident
The truck was moved to Makuyu police station. A transporter, Peter Kamore said the driver had various options. "He had the option of using the old Thika road, which goes through Kabati and still links up with the highway. Or the road passing through Delmonte plantations, which joins the highway five kilometres ahead," said Kamore.