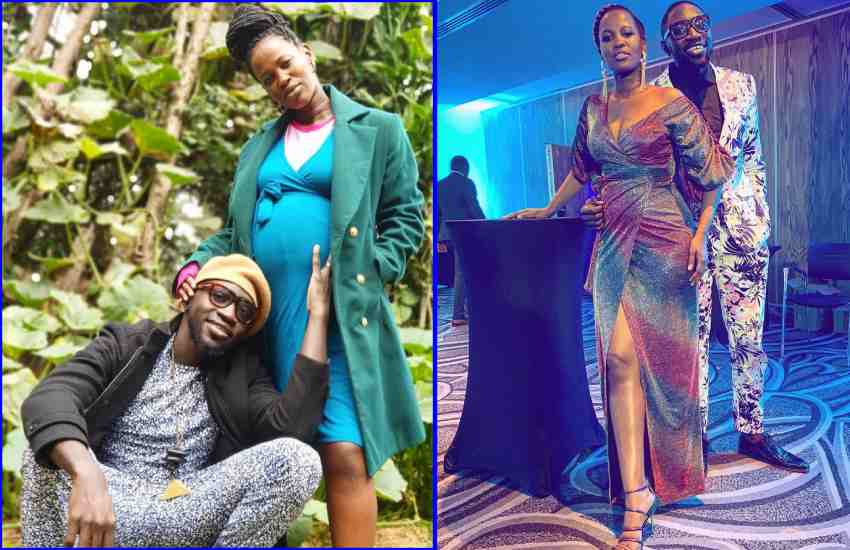 It is safe to say Sauti Sol's guitarist Polycarp Otieno alias Fancy Finger's wife Lady Mandy is enjoying motherhood so much that she has left netizens in the dark on her pregnancy experience months after welcoming her baby.
Mandy, who rarely speaks or posts about her child on social media, recently opened up about her pregnancy journey, describing it as the best period of her entire adulthood.
According to Mandy, she felt the most confident, beautiful and at peace while carrying her child despite the world being in the middle of a pandemic. "Friends, I truly enjoyed my pregnancy yo! I felt the most confident, beautiful, at peace and probably most positive I have ever been in all my adult life. even in the middle of a whole pandemic," she wrote.
Aware that not many women have the privilege of carrying and birthing their children as safe as she did, Mandy expressed gratitude for the blessing adding that she documented every moment of it. "I am forever grateful for this, as I know sometimes it cannot be said for many women. For that, I documented so much... like what am I going to do with all the preggers pictures? Y'all will have to endure me sharing them with you," she added.
Read Also:Celebrities react to Sauti Sol's Polycarp and Lady Mandy expecting first child
Pregnancy announcement
The couple first announced the news of their pregnancy in May 2020. Polycarp was the first to break the news on his official Instagram page with a stunning photo of his heavily pregnant wife showing off her baby bump with the caption, "She's a queen. So supreme." "Remember your 2020 blessings are still intact. Happy new month friends! Mr O done given me the best gift yet," wrote Mandy.
Excited by the news of the first Sauti Sol baby, Bien and other Sauti Sol band members extended their congratulations to their brother vowing to be there for them throughout their journey. "I am so proud of Polycarp and his wife and we are going to support him 100 percent and even the kid. That is like my own child. Polycarp is like my own blood brother because we have gone through so much together to be where we are today. He has led us in the right way. I do not know what gift to gift them," said Bien.
It is not clear when exactly Baby O was born as the couple managed to keep the news private until recently when netizens started questioning Mandy and the baby's welfare that Polycarp shared a picture of their child's cute little feet. "For all those asking how Baby O and Mama O are doing, wako feet tu sana!" announced the excited father of one.
Polycarp and Mandy tied the knot back in November 2018 in a star-studded wedding ceremony at the Fairmont Mount Kenya Safari Club. The wedding which was a private affair was only attended by family and close friends.