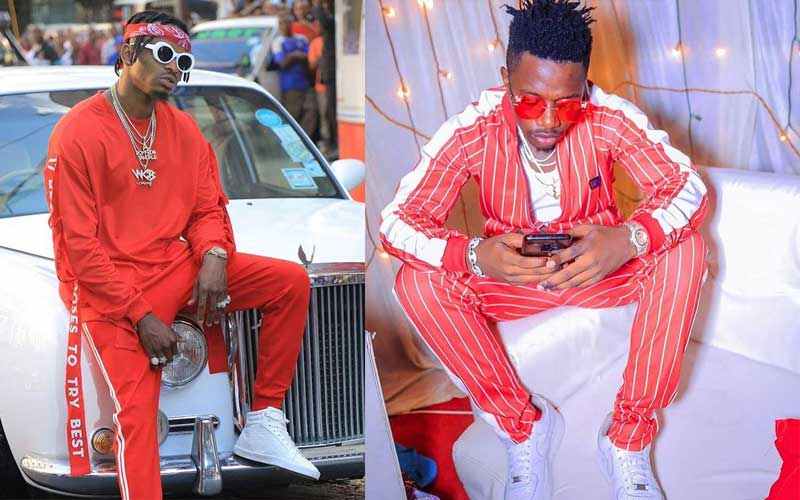 For some time now rumors have been doing rounds on the internet claiming that Wasafi Classic Baby (WCB) signee Raymond Shaban Mwakyusa better known as Rayvanny has ventured into his personal projects and will be exiting Wasafi. His boss Diamond Platnumz yesterday, Wednesday, October 28, 2020, put the rumors to rest by confirming the singer's expected departure from the popular record label. Speaking during an interview on Wasafi TV, the Jeje crooner disclosed that Rayvanny will soon be launching his own record label, which according to him will be the biggest in Tanzania.
"Not sure if I'm allowed to talk about this but Rayvanny is starting his own record label very very soon. That label is so big. I was looking at his studios and told him, 'Rayvanny this studio is big'. The day he will post it, as we speak it will be the number one best studio in the country," he said.
Asked whether his signees have the privilege to start their side projects while still under Wasafi, Diamond responded saying, "Anyone under the Wasafi record label is allowed to start their own projects if they want to. An example is of Drake, who has OVO and is still signed under Lil Wayne's Cash Money Brothers records. What I keep telling my signee's is that they should think outside the box. Let's be diverse and bring in different ideas."
The celebrated Bongo star went on to advice artists to try and come up with long-term investments that will secure their future and help them get by even after they are done doing music to avoid going back to where they started or even worse borrowing money from others.
"It will be a disgrace to work so hard and at the end of everything go back to Tandale with nothing and start borrowing people small money. Someone like that even if they approached me for financial assistance I wouldn't lend them any money. Imagine working alongside me or even being like me and you go and squander your money only to come back to ask me for help, I won't give you any because I'm seeing you like someone that doesn't use their brain," he added.
Harmonize
Rayvanny's exit from the popular record label makes him the second WCB signee to step away from the label to start his own recording studio after Harmonize. The singer's decision to part ways with WCB meant compensating the label a whooping Ksh26.8million founded on the exit clause of the recording deal.
"It is no longer a secret that I am not in good terms with the WCB management. I wouldn't want to lie that all is well. I however, want to thank WCB for helping me build my brand. I won't discuss publicly the specific issues that led to my fall-out with them. Currently I am not signed under any record label, and would continue producing songs as an independent musician.
Also read: Mimi Mars denies dating Diamond 
"My contract with WCB stipulated that I pay them Ksh26.8million to be allowed to leave the company if my 15-year agreement with them hasn't ended. That money, the contract said, would allow me to own the copyrights to my name and music produced under the Wasafi outfit," he said. Although Harmonize's departure wasn't as graceful as that of Rayvanny, the Kwangwaru crooner has gone on to make hits and maintain his music stature with his record label Konde Music Worldwide.
Also read: Diamon reveals Wasafi Towers is almost complete