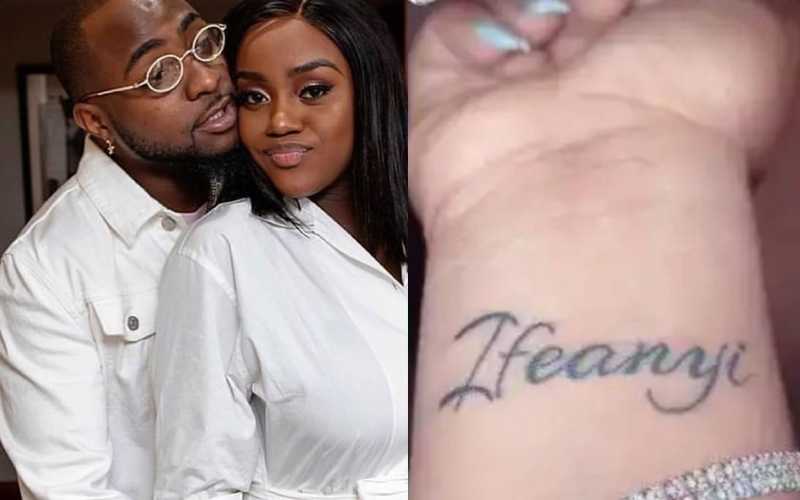 Chioma Avril Rowland, Nigerian singer Davido's fiancée, has tattooed her son's name Ifeanyi Adeleke on her wrist. Ifeanyi recently celebrated his first birthday and his father, Davido, was over the moon as he proudly celebrated this milestone. "Happy birthday to my beloved son DAVID IFEANYI ADEDEJI ADELEKE Jr !!! Today a king was born!! Prince!! May you become more than me in Jesus name! LOVE YOU SON," Davido tweeted. Ifeanyi became a trending topic in Nigeria as netizens joined Davido in celebrating his son's first birthday.
"Omoba ti de!!! David Adedeji Adeleke Jr I !! D prince is here!!!! 20 – 10 – 2019!!! Love you, my strong wife!!! I love you!!!!! ??????," the excited father tweeted. Davido formally proposed to Chioma in September at a dinner held in a London restaurant. The engagement came ten days after the couple's family had an introduction ceremony in Rowland's family home in Lagos.
Earlier this year, Chioma was said to be in an abusive relationship with the singer but she disputed those claims saying she has never been bothered by what is said of her relationship. "I know you guys absolutely love to spread all sorts of rumours and stories for your entertainment and I've known from day one what to expect from blogs and the internet especially with myself and family being in the public space," she said.
Adding: "I have never once come out to respond to any blogger or react to any rumour mongers before as quite frankly it has never been my nature to engage in online battles or pay too much mind to social media. But I must say I have found quite disturbing the stories of domestic abuse between myself and David and for once feel a need to speak up," she narrated.
Also read: Davido thrills crowd despite government advisory
Chioma went on to add that the claims could cause a lot of harm to her family and threatened to take legal action against the perpetrators if they did not retract their statements. "Domestic violence and abuse is no joke and not something to ever take lightly. Never has there ever been an incident of abuse in my home. He has never in his life lifted a finger to touch me and I have never so much as even pushed him. I believe with everything we peddle as human beings whether offline or online, we should have a bit of fear of God more so when speaking on things we know absolutely nothing of," she added.