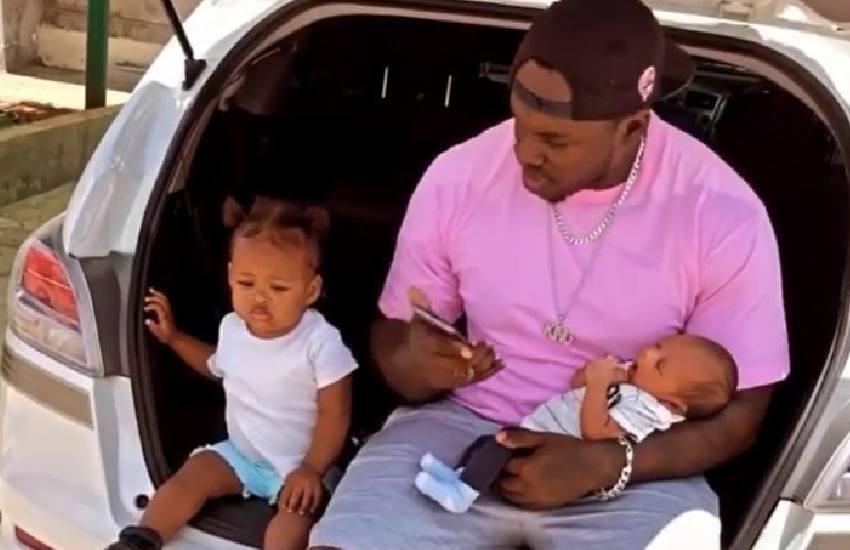 Popular Kenyan rapper Khaligraph Jones and his wife Georgina Muteti have welcomed their second child. Sharing the exciting news on social media, Georgina posted numerous pictures of the handsome baby boy coupled with a backstory on her birth experience.
In the post, Georgina mentioned that her son arrived on Sunday, October 11, 2020 at 12:58am after changing their doctor and hospital in the last minute before finally mustering up the courage to have him naturally.
According to the date and time provided by Georgina of the baby's birth, the couple had already welcomed Baby Lu by the time they were announcing news of their pregnancy. "I did it! I got my VBAC. 11/10/20 12:58am, after having a caesarean birth *emergency* with my first child (Amali), I had a safe vaginal delivery with my second. Baby Lu," she posted.
Adding: "That was only after changing hospitals twice, switching doctor's last-minute and believing in myself. Through prayer and screaming during labour, I delivered my son. I'm a happy and tired mum of two now! #2weeks Btw I forgot how hard having a newborn is and breastfeeding."
Read Also: Rapper Khaligraph Jones grows his 'cartel', expecting second baby with wife
Khaligraph on the other hand posted an adorable video of himself in the company of his two kids rapping to his latest track Kwenda with the caption, "The Lwanda Magere Legacy."
Pregnancy announcement
The couple shared news of their newest blessing about a week ago with Khaligraph posting a picture of his heavily pregnant girlfriend with a teasing caption, "Omollo has been overworking in every field. The OG has to be respected, Rada Safi, The Lwanda Magere Legacy."
A number of netizens assumed the love birds were expecting twins owing to Georgina's huge baby bump. She, however, came out not too long after and set the record straight by saying she was only pregnant with one child. "Please, I'm not having twins, I can confirm that for sure going by the ultrasound I been having, I get my bump is huge."
Read Also: Khaligraph Jones' wife explains why her baby bump is huge
Georgina went on to attribute her big bump to her husband's heavy build body structure, stating that it is normal for her child to be as big. "Look at how large the father is, y'all really thought I was gonna have a bump the size of a tennis ball?" she continued.
Family
With the newest addition to his family, it is safe to say the OG is now a father of three after his ex, female rapper Cashy revealed that he is the father to her 2-year-old child. Speaking during an interview with Standard Entertainment and Lifestyle, the rapper admitted that due to privacy issues, she has been covering up the fact that Khaligraph is the biological father of her baby.
Read Also:Cashy seeks child support from Khaligraph Jones
"I have been quietly handling the matter for almost a year now but it's getting stalled more and more, yet the kid needs support. After we broke up, I didn't talk about the paternity of my child as I wanted to keep the matter private, because I felt the media would twist the story," said Cashy.