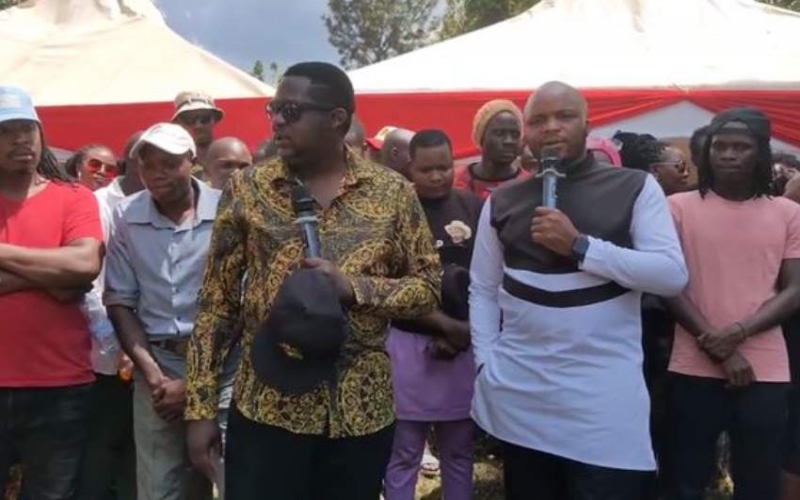 Laugh Industry founder and director Daniel Ndambuki, popularly known as Churchill, has rebuked Kenyans who blame comedian's misfortunes on him. Speaking during the burial of the late Ben Maurice 'Othuol Othuol' Omondi in Ndere village, Siaya County, Ndambuki stated that he created Churchill Show with an aim of realizing opportunities for the youth.
The 42-year-old Classic 105 personality noted that he is not funded by the government or any other institution, rather, he is just a commoner who sought to create a platform for the youth to make the best out of themselves. "I'm not the government. I'm not funded by the government. I'm just a person who had a small dream and whose ambition was to change the lives of as many Kenyans as I could and make them realize their dreams," Ndambuki narrated.
Read Also:PHOTOS - Othuol buried as calls made for comedians to build brands
Churchill, who has previously attracted backlash from Kenyans when comedians allied to the stable hit headwinds, stated that the anger should be directed towards the government. "Let me ask you, most of you have performed high school drama festival, primary schools to the national level and it ends up in State House, have you asked yourself what happens to those talents? That is how most of the dreams die," he added.
He explained that most netizens who troll him for the misfortunes that befall comics do so since Churchill Show is the largest chunk of talent in the country. "The reason why you see them say 'Churchill Comedian' when something bad happens, is because it's the only platform that they get to be seen. Listen, I am not the government and I am not funded by the government," he continued.
While at it, he also called out comedians, urging them to make the best use of social media to build brands. "Don't wake up every morning and you're telling them what you are eating, what you're wearing, you have a life. Stop calling people "family" because the moment you stop cracking jokes, they stop being your family. Leave the bloggers - they earn money through your stories," said the comedian.
The veteran comedian went on to note that comedy is a very lonely career. "It's a personal war that you are fighting with yourself. What makes people laugh today may not make them laugh tomorrow, and so you have to be creative every day," he advised. 
Read Also:Churchill, Jalang'o attend Othuol Othuol's burial, give moving tribute
Opening up about the challenges comedians face, he reiterated that fame can prove costly. "You have come and performed, you are famous, you get money and you don't know how to manage it. Automatically you get friends. Some are good while others are bad. And because acting is not a full-time job, you have to supplement it to get money elsewhere. The little you have, you have to manage it."