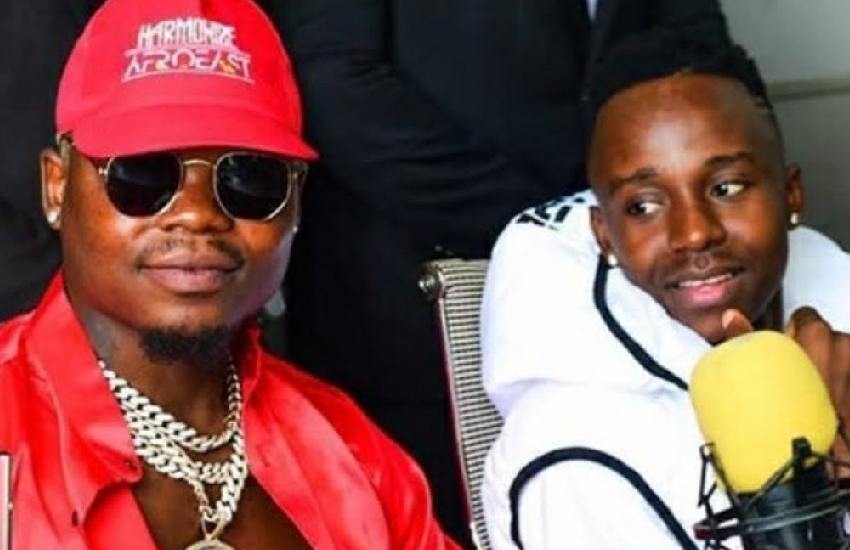 Konde Gang founder and boss Harmonize is fighting to recover the YouTube channel of his fast-rising protégé' Ibraah after it was terminated a week ago over unspecified reasons. Taking to Instagram to share the progress, Harmonize stated that he understands Ibraah's frustration over the termination and promised to resolve the issue quickly.
Read Also: Harmonize defends Diamond over copyright claims
"The hurdles and the challenges blowing your way are for a reason. God intended it this way. Keep being strong bro. I know how frustrating and painful the termination of your YouTube channel is, but trust me. You were destined to be on this path.  Soon it will be back and all walls will tumble down! You make me so proud," shared Harmonize.
Ibraah, the first artiste to be signed under Konde Music Worldwide, was before the setback billed as one of the 2020 breakout artists to watch. He now wades in unfamiliar territory, racking up headlines similar to those that have characterized his mentor's efforts to get a footing in the video-sharing platform since exiting Wasafi Classic Baby (WCB) over a year ago.
Harmonize's troubles with YouTube famously came to the fore after Uno's music video was temporarily deleted in 2019 after a copyright claim was filed by one of Kenya's finest and leading music producers, Magix Enga. "Uno is no longer on YouTube. Don't sample Magix Enga beats. I repeat don't! Like I said I'm not going to allow this to happen, not in 254," warmed the self-styled 'Beat King.'
Read Also: VIDEO - Singer Harmonize flaunts 'palatial Konde Gang headquarters'
In early 2020, he released his album, AfroEast, to critical acclaim but had to eat humble pie after it was flagged and pulled down over copyright claims from various platforms, including YouTube. "Hello, my people sorry kwa usumbufu ulio jitokeza jana! @afroeast2020 kuto kuwepo katika digital platform zote! Napozungumza na wewe @afroeast2020 imesha rudi on @applemusic x @spotify x @tidal @audiomack @boomplaymusic na ifikapo saaa 1:00 basi itakuwa live on YouTube pia bless up for your support. We are taking this to the world," he explained.