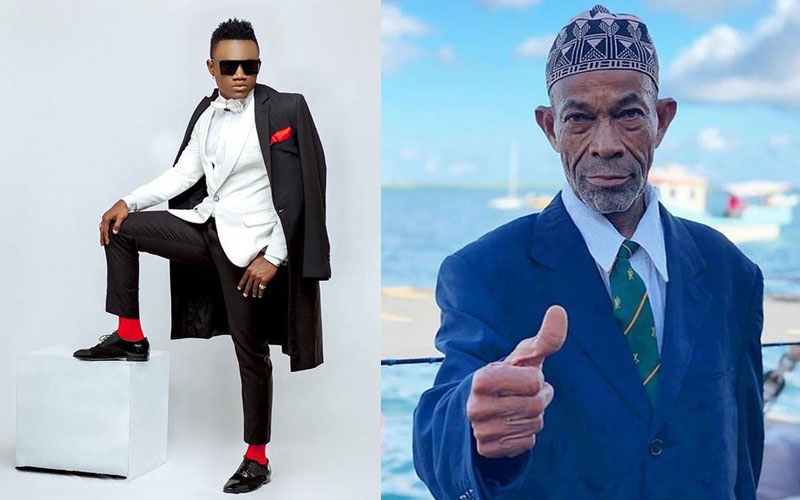 Bongo superstar Khan Kilungi alias Mbosso is mourning the death of one of his biggest Kenyan fans famously known as Lamu Confuse. In a message shared on his social media platform, Mbosso said that he is lucky to have had fans, some the age of his father loving and supporting his music.
"God has made me lucky by giving me a lot of fans of diverse age groups. However, to get fans who are older than my father or even my grandfather, it is a blessing that is very special to me," he said in part.
Mbosso added that Lamu Confuse made the people of Lamu fall in love with his song Shilingi, and that he was like a parent to him.
READ ALSO: Mbosso speaks on battling health condition, missing late baby mama
"Through you, my Shilingi song was a hit in Lamu Island in Kenya. You made the leaders and Kenyan citizens in Lamu become my greatest fans. You were more than a fan to me, you were like my parent," he added.
Lamu Confuse was a known entertainer who shared funny videos that always went viral on social media. In January this year, Mbosso also mourned the death of Mzee Jamal Ismail who was a Mombasa based die-hard fan of his. In a post he shared on his Instagram page, the singer announced that he had received the sad news of the passing of Mzee Jamal. According to Mbosso, Mzee Jamal played a big role in selling his music in the coastal region. The two met when Mbosso visited Mombasa back in 2017 and Mbosso has been helping Mzee Jamal through his medication. Speaking in an interview, Mbosso said he was shocked when he learned of the sad news.
READ ALSO: It's stupidity- Mbosso on Kenyan who traveled to Tanzania to marry him
"It is too soon but it is by God's will, we cannot avoid it. I loved him and he loved me back. He was funny and he was a man of the people," he said.
The two met through social media and connected when Mbosso came to Kenya to perform and even went on stage with him when performing.