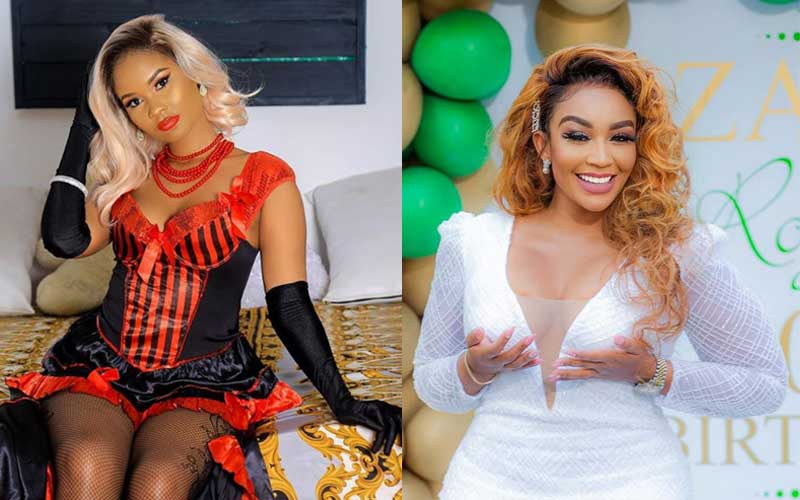 Hamisa Mobetto has spoken about her desire to reunite with Diamond's first baby mama, Zari Hassan. In an interview with Simulizi na Sauti, the mother of two explained that her nature does not allow her to hold grudges and is willing to mend her relationship with Zari should an opportunity presented itself.
"If it ever happens, I'm here. I am a very kind and hospitable person so if it's planned that we will meet, it will be okay with me. I'm here for it," she said.
The Mobetto Styles founder stated that in situations where children are born of the same father and different mothers as in their case, it is every parent's dream to introduce their children.
READ ALSO: Dont try me! Zari Hassan to Diamond after he admitted to cheating with Hamisa
"When it comes to children born of the same father, it becomes everyone's hope for them to meet as a family and become one thing and live in harmony. If any problem arises then it can be tackled within the family as we push on," she continued.
Hamisa and Tanasha
Contrary to her almost nonexistent relationship with Zari, Hamisa and Diamond's ex-girlfriend Tanasha Donna get along pretty well.  According to Hamisa, her friendship with Tanasha was made easier by the fact that they knew each other before Tanasha started dating Diamond but lost touch, a factor she said made their reconnection much easier.
"It's easy for Tanasha and I to get along because as I mentioned earlier, I knew her before. If you have met someone before or have a relationship with someone before, it is very easy to reconnect with this person compared to if you've never seen or heard of someone from the beginning.  She is dope, she is a very nice person who works very hard. Also before I forget she is very beautiful," said Hamisa.
READ ALSO: Hamisa Mobetto styles Tanasha Donna in her latest hit featuring Masauti
 "Our sons have not met, but there are plans to meet. They talk on video call, and Hamisa's son is such a bubbly boy. I want to bring them to Kenya on the 2nd of October, which is my son's birthday," said Tanasha in a previous interview.  
Their plans were unfortunately disrupted by the coronavirus pandemic that prevented them from travelling. Despite the disappointment, Hamisa and Tanasha are still optimistic their children will see each other soon.
"We were planning to go for the birthday but as you know but a few things like corona came up. But very soon the kids will get to see each other so when the time is right everybody will be able to see the other," said Hamisa.