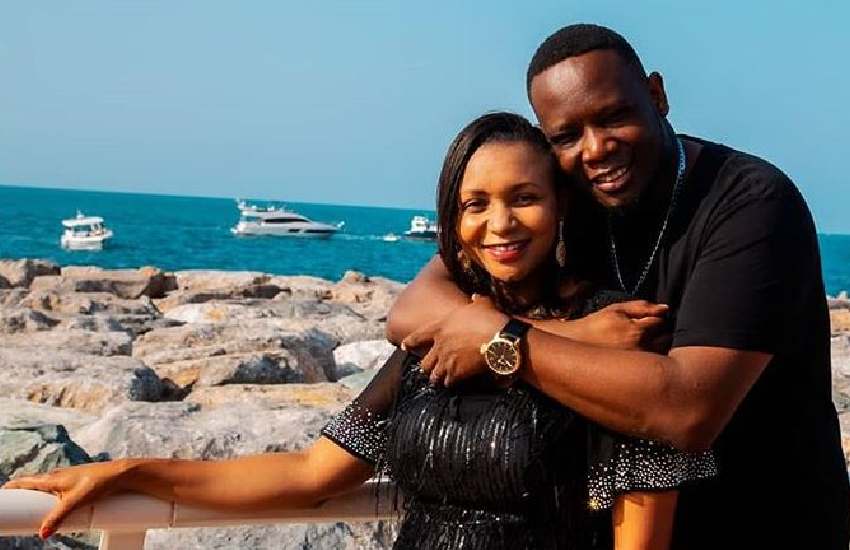 A man who likes keeping the lucky cards close to his chest, Rufftone has always found a way in the maze that is showbiz. Starting out, still fresh from completing his studies at Kakamega High School and living with his father in Umoja, he was adamant that he would not do the Florida 2000 (F2) circuit, where all raw talent met and went toe-to-toe in trying to be discovered by among others prominent Kenyan music producer Tedd Josiah.
"People paid to win at F2. I won't even lie to you. As much as some young artistes had genuine talents, like Ndarlin P, Gidi Gidi Maji maji, Kalamashaka among others, others paid the deejays and talent search organisers so they could be announced as winners," says the Mwikulu singer, a song whose slow groove captured all your musical senses, whether you spoke its Luhya dialect or not.
So Rufftone cut the line, deciding to go straight to the radio, where the F2 winners would eventually end up. He knew Kenya Broadcasting Corporation's famous radio jockey, John Karani, lived somewhere in Umoja, and he decided to look for him. Sure enough, this was a sure bet. Out of this connection, his first-ever jam, It's Up To You, a secular song about ladies, went on radio. "I was the real Nonini before Nonini," he screams to emphasise the path he was in.
Remembering Mizizi and Shikamoo shows
"I give so much credit to Flavian Mbusi, and shows like Mizizi, Shikamoo, and Warehouse. These shows were a great platform for us to horn our skills and get exposure on media, which was then exploding with new TVs and FM radios," recalls Rufftone, a Goodwill Ambassador for the Republic of South Korea.
"We never used to get paid with money. We would meet in town, get ferried to Industrial Area to shoot the shows, and get Club Soda as a refreshment. It was later on that organisers started sending invites with 'food and transport will be provided', which was still diluted juice in big buckets and a cocktail of biscuits, popcorns and crisps!" he shocks, before posing and bursting out in laughter. At the time, raggamuffin was the in thing, with 12 Moja, Jose Chameleone and Poxi Presha popularising the local version.  
Read Also: Rufftone opens up about 'Mungu Baba' hit, friendship with Uhuru
His first real payment was Sh300, for a show in Donholm, which he refused to take because 'the amount was in coins.' According to him, that meant he was an afterthought. A trained graphic designer from the famed Buruburu Institute of Fine Arts (BIFA), he started seeing a light at the end of the long tunnel filled with juice and biscuit when payment graduated into a voucher system, each amounting to Sh3000, every time an artiste's song was played on radio or TV.
"We looked forward to those yellow vouchers bwana," lighting up with humour he recalls of an era before social media, tens of broadcast channels, brand endorsements and annual countrywide tours fully sponsored by corporates.
Passionate appeal to the government
A part of the reason Rufftone had to make music work was that graphic graduates he knew always decried the level of unfairness and bad practices by many employers, especially in the Industrial Area. I tell him the stories are still there, this many years later. "I appeal to the government to ensure Africans are treated better. This is their country and there is no way foreigners can act as if they are the natives and we are not. That should not happen in 2020," he says in a measured tone common with politicians.
In 21 years, what is baffling is that Rufftone has only three albums; Sirudi, Chant A Prayer and Mola Wangu. He makes it up with singles that have been chart-topping, traversing generations of the gospel industry. "By the way, Mungu Baba happened at a very critical juncture in my career. I was considered washed up and old school, deejays did not want to play my songs and top artists did not want to collaborate with me. The rejection had gotten to me and I had self-doubts," the CEO of Lampstand TV, Events, Records and Ruffwear International says.
Read Also:Rufftone Breaks His Silence
That an artist who has worked with the reclusive Henrie Mutuku, Votaries, SK Blue, Ben Githae, Lucas Bikedo, Daddy Owen, Dunco among other could have his relevance questioned shows how much times have changed. Rufftone is Kora Award nominee for Male Artiste of the Year 2003, besides other awards. "I tell you a true God lives," he stresses.
Gospel music, the rise and fall
Asked about his thoughts on the current gospel industry, Rufftone has a scathing commentary; "The world and times have changed, but God doesn't change. People have turned away from God. Where we went wrong is when we stopped being messengers of the word and it became about us, about our brands. Many artistes prescribe to gospel music, but their hearts are after other things," he says, days after another scandal hit the industry, this one involving a married deejay and a lady based abroad.
"Do you know it was only in Kenya, across the entire globe, that gospel music was on top of secular music? Go to any other country, Israel, USA, SA, Nigeria, and you won't get scenarios like it was here. We lost all that blessing," he quips, interrupting our conversation to chat with one of his kids. Yes, he is a family man, having gotten married to Susan Njoki alias Krystal. The two tied the knot in holy matrimony at the Kenya Assemblies of God, Buru Buru, Nairobi six years ago.
"My wife had stopped singing because of family engagements. We were newlywed and children and spending time with each other took a chunk of our career," he once told Standard Entertainment and Lifestyle. For the two decades that he has been in the industry, he doesn't no quote missing out on a mega-contract or a well-paying gig, or not being part of a mega song as his biggest regret. To him, the state of the gospel industry is.
Read Also:I don't know why my wife has not left me yet - Gospel singer Rufftone
"We are misrepresenting God. We are only selling the side of God that he is caring, loving, but not the side that He is a judge, gets hungry, punished and expects accountability for our actions. We are casual as a society, forgetting that even demons know He exists and tremble in His presence," he says, his laugh and easy demeanour gone, replaced by a pensive voice that is seeking for unknown answers, as he quotes Mathew 8:28-32.
As the year drags to an end, he is finalizing plans for Pure Praise, an end of year gig at Bukhungu Stadium, now in its third year. "Tell my fans in Western that I'm coming home with new music." Pure Praise, like the many things he does, is calculated. Indeed, he is.